Name: Patrick Mitchell III
From: Blue Springs, MO
Grade: 12th
School: Blue Springs High School
Votes: 0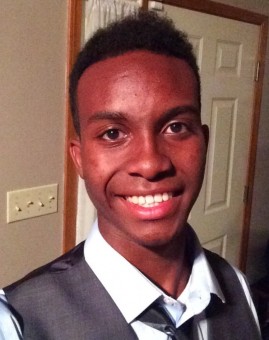 Nothing fills me with more self-fulfillment than the radiant glow of
a child's smile. In my years of elementary schooling I have gained
so many great experiences thanks to the teachers and volunteers that
made them special. It is for that reason that I also wish to give
back and take on the role of those who helped me. It's something
that I don't regret, even with some of the challenges and
problematic issues that came with different children. Working through
their problems, laughing with them, and getting know each one of them
on a one-on-one level brings a reward that does not fade. Every name
I've learned stands as another reason it was worthwhile.
I have
volunteered at Calvary Temple Academic Camp for the summers of 2014,
2015, and 2016; from 8:00 am to 6:00 pm; Monday, Wednesday, and
Friday. From 8:00am to 12:00pm, I spent my time tutoring in grades
1st through 3rd on reading and math skills.
This ranged anywhere from book reading and helping with
pronunciations, sight reading tests and review, and general math and
word problems. In addition, some children required individual
assistance or special learning approaches which were difficult at
first, but on my off days I took the time to figure out how to better
suit their needs. It was a trial settling down some of the more
unruly children; either they chose not to listen or for some, they
were just trying to be noticed and feared their peers.
Following this,
from around 12:30pm to pick-up time (typically no later than 6:00pm)
I was tasked with looking after the children in their afternoon
activities and trips. This is where I would say I really connected
with them the most. I love to entertain, and it is through this that
I shared many laughs and silly little escapades with every student.
For some, I just sat and talked, others I played along with their
games no matter how ridiculous, and most liked me showing some of my
own talents and teaching whatever random ability I decided to
display. They grew to trust me and in turn this lead to an easier
time helping them in their academics as they were more open to
tutelage from me.
Taking that in mind, one of the best parts about it all was that by
the end of the summer each year, I could see improvement in all of
them, those who had trouble in the past had grown to love the program
and became significantly more proficient in their weak areas. While
there were some who did not excel as far as others, I could see the
potential radiating from them the following year. If anything, I can
say that I have grown in my empathy, learning to understand and lift
some of the emotional baggage from the kids I've touched. I figured
out how cater to different audiences while getting the point across
and unlocked a deeper realization of responsibility and being a role
model.