Name: Tarini Venkat
From: Sharon, Massachusetts
Grade: 12
School: Sharon High School
Votes: 0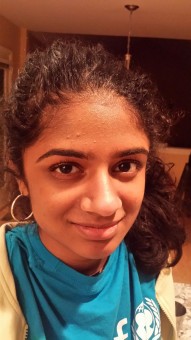 I am part of YouthLEAD, which stands for Youth Leaders Engaging Across
Differences. I applied and was selected to be a co-chair of a
youth-led project team, which in Collaboration with Jefferson
'Students In Action' program, do community service. We chose
homelessness, particularly child homelessness, as out topic because
it impacts people everywhere, even people our age. We started
planning our project over the summer so we can compete in the
Jefferson competition, as well as leave a deep, lasting impact on the
community.
We meet for two hours every week, along with doing various projects and site visits
during the week and the weekend, such as tutoring kids at Casa Nueva
Vida, making and giving handmade care packages to homeless people in
Boston, collaborating with a startup company known as 'Miracle
Messages', which uses social media to connect homeless people with
their loved ones, and much more.
As a co-chair, not only do I have the responsibility to contribute that the other
members of the team do, but I have another responsibility on top of
that. I also have to plan and arrange site visits and fundraisers. I
also have to make sure the team dynamics are running smoothly.
The greatest challenge for me as a co-chair has not been the time commitment or
the ideas, but rather making sure that everyone on the team is on the
same page. Some people in our team, including the other co-chairs,
are extremely extroverted and energetic, and although they are very
driven and have many plans and ideas, it's hard to involve some of
the quieter, less committed members of the team. Sometimes the plans
aren't communicated correctly and the other co-chairs get frustrated
at the low turnout. Recently, I've been finding ways to keep other
team members more involved and motivated- including games,
activities, giving them assignments, and giving them opportunities to
plan and offer suggestions. This way, the other co-chairs and I would
be less stressed too, since the work is more evenly divided.
There's so much I learned from my experience on the team. One of them is how to follow
through when there are people depending on me, such as the other team
members or the charities that we are working with. Another thing I
learned was that homeless people are just like us, and you honestly
can tell who is homeless and who isn't. When we volunteered at Casa
Nueva Vida, we couldn't tell the difference between the older
teenagers there and the volunteers from Boston University and
Northeastern University.
One change I would like see from this project is a new societal approach to
homelessness. With the research that we've been doing, we realized
that the stereotypes about homeless people as being lazy and drug
addicts aren't necessarily true- sometimes people are homeless
because they lost a job, are a single mom, never received an
education, have a mental or physical illness, didn't have sufficient
insurance to cover hospital bills, or various other reasons.