Name: Valerie Guyant
From: Dumfries, Virginia
Grade: vmguyant17@gmail.com
School: Forest Park High School
Votes: 0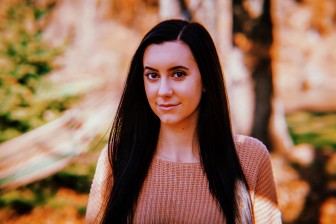 I didn't expect to learn so
much from someone who couldn't talk. Claire was fourteen, the same
age that I was when I started working with her at Simple Changes
Therapeutic Riding Center. I wanted to help people on an individual,
one-on-one level, and for the past 4 years my Wednesday afternoons
have been one of the highlights of my week. They've consisted of
driving to Lorton, Virginia and volunteering 3 1/2 hours for that
day's horseback riding lessons, a form of physical and emotional
therapy for students with special needs. My role as a volunteer
includes guiding the horse, side-walking (holding onto the rider and
instructing while they're riding), and taking care of the horses
and stable.
I've
been lucky enough to work with the most tenacious and resilient
people I know. I look at Hannah, a young woman who's quadriplegic,
and see someone who's earned a college degree, someone who's
taught me that there is a fine line between kindness out of pity and
kindness out of respect. I look at Harry, with his never-ending funny
stories, and see the utmost vibrancy and genuine love for life that
I've ever laid eyes on. And I've always felt a special sort of
connection with Claire, with her freckles like constellations and big
brown eyes that mirror my own. My heart drops every time she has one
of her seizures; it's by far the most challenging part of
volunteering. I don't think it will ever normalize for me. I'll
always feel that mix of helplessness and shock at how precious and
fragile our lives are.
These
kids have seen more adversity than I would know how to bear, yet they
face it with a smile. Growing up alongside them has felt like having
9 extra siblings, and the satisfaction I get when I see them
accomplish something new or compete at competitions is priceless.
I've learned the difference between compassion and mere tolerance.
I've learned what it takes to practice patience. I've learned
that I just might need these kids more than they need me. I've
learned that "forward looking" means having both a positive view
for what can be achieved, and the dedication required to attain that
view. I see working with these kids as "forward looking" because
each lesson serves a constant reminder that we can do anything if we
give the necessary time and effort. Through my volunteering, I want
to help kids become as confident, driven, and strong as they can be.
I've always had the goal of changing as many lives as possible but
I didn't realize just how much doing so would change my own life.
Throughout my life and career, I will maintain this dedication to
changing the world a life at a time. In years to come, I know my work
will have made a difference. The smiles I get from my kids now will
match the smiles they wear when they've grown up, having pushed
themselves the whole way.