Name: Sabrina Heizenrader
From: Beaverton, OR
Grade: 12
School: Health and Science School
Votes: 16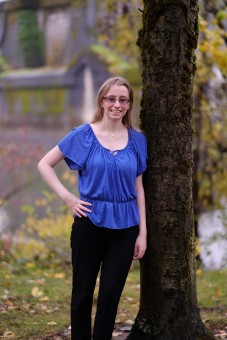 Teaching Natural Wonders to the Next Generation
Twice a year I travel from my everyday life to a forest beach camp in
Oregon. I immerse myself in nature and teach sixth graders about
the wonders of the outdoors. The program is called Outdoor Science
School and many sixth graders in Oregon attend to learn about
environmental science hands on. My role as a Student Leader is
non-stop, intensive work, but I wouldn't change my experiences
there for anything.
I first became involved with Outdoor School during my own amazing
experience in sixth grade. I knew before my week was even over that
once I became a sophomore, the grade I could start volunteering in, I
wanted to come back and help give others the same joy I was feeling.
In the spring of tenth grade, I served my first session as an Outdoor
School Student Leader. Since then I have returned for one week each
fall and spring.
As a Student Leader, I am involved in all parts of the program. On the
academic side, I aid a field instructor in the lessons and activities
they use to teach the sixth graders. Between field studies I lead a
cabin of sixth graders. I lead them through fun activities such as
campfire, as well as helping them be where we need to be, on time and
prepared. Being responsible for them also means helping with
homesickness and resolving any conflicts that may arise. For many
students, this is their first experience away from home and it's my
job to help them feel safe and have fun.
Being a Student Leader comes with it's challenges, but they're ones I'm
happy to work through. Occasionally, there will be a student who
doesn't want to listen to directions or participate. I work with
them on an individual level. By the end of the week I'm able to see
them grow and enjoy themselves in whatever we may be doing.
Out of all my wonderful experiences at Outdoor School, I enjoy mealtimes
the most. Not for the amazing food, but for the conversations. I get
to hear about what they've been doing and see the excitement and
joy Outdoor School brings. It's moments like these I can see the
how happy we make the students, and that make any challenges worth
it.
Despite not planning to go into a related career, Outdoor School has taught
me many invaluable lessons. It's taught me the importance of grit
and how to push through anything to get the job done well. It's
made me a better leader and strengthened my ability to interact with
all kinds of people. I have learned the value of working for the sake
of those around me. The kids I work with may not come as Student
Leaders themselves, but they've grown and gained an appreciation of
the world around them. No matter what, Outdoor School will be a
memory the cherish for the rest of their lives. And that is the best
part of it all.