Name: Marife Quesada Lizano
From: San Jose, Costa Rica, --
Grade: Senior in High School
School: Lincoln School Costa Rica
Votes: 0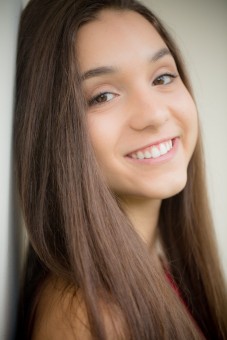 The
truth is, it's hard to be an artist in my country, Costa Rica. It
deeply saddens me that people do not appreciate the beauty and
complexity of what it means for us artists to share our work. The
arts are looked down upon, especially "modern" performing arts
like Musical Theatre. The lack of interest for the arts in Costa Rica
has made my development as a Musical Theatre artist particularly
challenging. As a result of this, I have found myself feeling deeply
frustrated, seeking performing opportunities without being able to
find any. I've
always known I wanted to change this about my country's
culture, but I wasn't
thinking about that when I decided, with a friend, to direct and
produce the first production of "Les
Misérables"
at a national level. My mindset while taking on this massive project
was: It will be hard, but, if you cannot find opportunities, you have
to create them yourself.
After
our school helped us obtain the rights to perform the show, we
received over 200 auditions from all over the country. After
callbacks, we narrowed down to 35 actors from 20 public and private
institutions from all socioeconomic sectors. Besides being the
Artistic Director and funding my own production company "Crescendo
Producciones," I assumed numerous roles that ranged from lighting
design to performing the role of Éponine. Rehearsals were
exhausting. Since people came from all over the country, we could
only have a single 9hour rehearsal every Saturday for 8 months.
The
show was a massive success. Even
though we started getting unprecedented attention from the newspapers
and media, the biggest outcome from my perspective, was how a culture
of love and acceptance for young Musical Theatre artists emerged out
of people who felt misunderstood, including myself, by finding a
common passion. These young artists, who I now proudly call my
family, will not have to go through the same frustration as I did,
and that fills me with joy.
I'm
not only beyond satisfied with the final outcome, but extremely
thankful for how much I grew as a person. Despite the intensity of
the process, this experience allowed to me understand that regardless
of any situation, if there is enough passion and dedication for what
you love, anything is possible.
I
feel honored to have served as a medium in the development journey of
Musical Theatre in Costa Rica. In
an attempt to strive for what I love, an opportunity was created for
many. My previously acquired knowledge through education allowed me
to communicate this art form I fell in love with a long time ago.
http://www.nacion.com/ocio/teatro/adolescentes-cumplen-estrenar-musical-miserables_0_1623037764.html
https://www.ameliarueda.com/nota/colegialas-abrirse-camino-teatro-musical-les-miserables
https://www.larepublica.net/noticia/jovenes-dan-vida-a-obra-les-miserables
http://myemail.constantcontact.com/Les-Miserables-cobra-vida-en-producci-n-intercolegial.html?soid=1109546419319&aid=NlcumGkk0cc