Name: Daniela Ferreira Franco Moura
From: Basel, Basel-Stadt (Switzerland)
Grade: High School Senior
School: International School of Basel
Votes: 0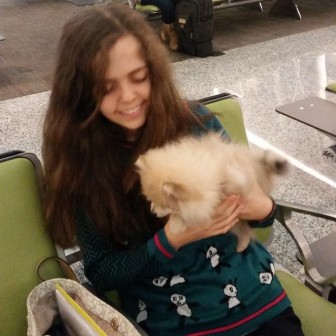 The
Universal Language of Learning
Wednesday
is my favorite day. Every Wednesday evening, I play games with
children at the refugee center and teach them math.
We
come from different countries, practice different customs, and speak
different languages. And yet we play together, laugh together, and
learn together.
What
unites us? They are fleeing danger and persecution. They are going
through more hardship than I likely ever will. I am there not only
for pleasure but also as a duty; the duty of those who were lucky.
Through games and mathematical exercises I do not intend to change
the world—well, at least not at once. My humble goal is to help
these children have the childhood they deserve.
School
was an integral part of my childhood. Besides being something to look
forward to, regular lessons foster social and intellectual growth.
Yet the children in the refugee center do not go to school. After
organizing weekly games evenings for these children for a year, I
proposed the creation of learning activities. After much discussion,
I came upon a subject which would be useful for the children
regardless of which path they took in life, and which did not require
much language to teach: mathematics.
The
other Red Cross volunteers initially resisted my idea—what
child would enjoy studying math in their free time? I
suggested we allow the children to choose whether they wanted the
math exercises or not. We were subsequently delighted to see that
most children chose the exercises over playing with toys.
I
took a course on how to teach math, but it has been challenging. At
times it becomes nearly impossible to explain mathematical concepts
to children with whom I do not have a common language. Yet it also
fascinates me how much can be communicated simply through facial
expressions, gestures and drawings.
I
strove to amuse these children and help them learn. I would soon
realize that amusement and learning are not one-way. All interactions
involve giving and receiving. I have been a most fortunate recipient:
with their enthusiasm, warmth, and eagerness to learn, the children
inspire me every day.