Name: Jaylynn Lyons
From: Sammamish, Washington
Grade: 12
School: Skyline High School
Votes: 20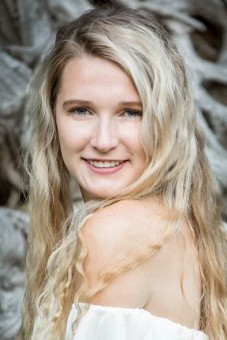 Inspired by past experiences, I am always in search of ways to help others.
Since April 2017, I have been so blessed to spend over 3 hours every
week at Little Bit Therapeutic Riding Center exercising my compassion
and will to support others challenged by physical and mental
limitations. At Little Bit, their mission is to enlighten the riders
with disabilities through equine-assisted activities.
After my parents divorced when I was four years old, I struggled with
finding ways to cope with my anxiety. My mom signed me up for horse
lessons, and the barn became my solace. More specifically to
children, horses have unique qualities to give peace to troubled kids
and help promote positive changes in their lives. 
Assisting the riders with tacking up the horses and leading them on their ride
is only part of the experience. Watching their faces light up when
they enter the arena is heartwarming and never fails to bring a smile
to my face.Patience when interacting with those who have disabilities is extremely
important especially when communicating. Recognizing and adjusting to
various levels of disabilities is crucial to successful interaction.
I have found that being patient and doing my best to understand and
respond to the rider's gestures and voice has taught me active
listening skills. My attention is always 100% on the rider;
encouraging, instructing, and simply talking about random topics.

Witnessing the rider's ability to achieve their goals while facing far greater
challenges than I could ever have imagined, is both humbling and a
constant reminder that hardships only defeat you if you allow them
to.The riders I assist at the barn inspire me at every turn. Being a mentor
to a rider and having success when helping to calm an agitated
behavior helps me feel my purpose because it comes from a place of
understanding. Each night after my shift, I reflect on the experience
and count my blessings.
I am beyond grateful that I get to spend time with these amazing
people who share the same love for horses as I do.
Looking at my future, I plan to carry on the knowledge I learned volunteering
at Little Bit and find other opportunities like it to exercise these
skills. For me "forward looking" is progressing through life
developing the skills and ideas I have learned in the past and making
use of them for new experiences. My hope is that more people will do
better with treating others as they would like to be treated despite
their differences. Little Bit is positively influencing the lives of
these riders and making amazing differences in their daily life. They
are simply,"Changing Lives…one stride at a time."