Name: Jocelyn Chen
From: Irvine, California
Grade: jocelynchen2000@hotmail.com
School: jocelynchen2000@hotmail.com
Votes: 5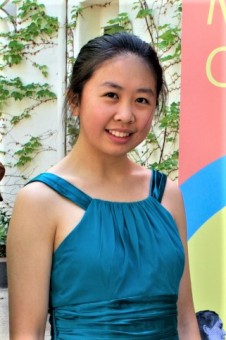 Music is universally considered as a way of bringing people
together. But I never knew why people kept telling me that.
Watching other kids play, I often didn't feel
more connected with them. As I entered high school,
I started chamber music in hopes that I would find
this connection and make some friends along the way. What I
didn't know was this: the music would suddenly come alive, as
if the composer were weeping, laughing, strolling through the
intimate space between us. Whether it was a Russian
communist purge, a serene forest, or the death of a young
child, we could send the joy and the pain out to
the audience. We knew they could feel it emanating from
their own experiences, just like how we could feel it onstage.   
I knew that seniors are the ones who needed music the most. They
have experienced the most, felt the most pain, and need the most
support through their less than lively days. The gift of music
that my fellow musicians and I possessed would be worth nothing if we
couldn't share our stories with those who needed it. I
started volunteering at local senior centers through the Junior
Chamber Music Student Service Association and my school's MUSE
club every month. In sophomore year, I became the Secretary for
JCMSSA, making sure concerts went smoothly and programs
were made and handed out to the initially unimpressed seniors. The
biggest challenge is the performance. My fellow musicians and I spend
hours practicing. I know I practice because I can't stand when I
give a substandard performance without a story. By the time
the concerts are over, the faces of the seniors, the
performers, and the parents have all undergone a dramatic
change. Smiles, laughter, even a few tissues can be
seen. Strangers hug each other. I know that I've done
well when I have alleviated pain or imparted a package of
happiness to brighten up a person's day, even change their lives. 
I love it also when children write letters to me about my
performances. I remember I was just like them too. I never
imagined that I could play all those pieces I heard on the radio
and in concert halls of my childhood. I hope I can
follow this dream in my future career as I go into college.  
This connection between people when we hear music, regardless of age,
gender, race, or success, I believe, is the root of
humankind. The word "kind" in humankind already shows that
we were meant to share our lives and help each other. It
can transport pain, instill happiness, inspire love between one
another when we enjoy the same things in life. Of course, this
universal happiness has yet to be shared among all people, and
I hope I can continue enlightening others like my younger
self.