Name: Grace Roy
From: Dover, New Hampshire
Grade: High School Senior
School: Dover New Hampshire High School
Votes: 0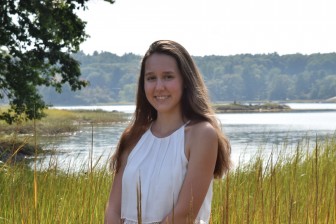 I have been a youth advocate for 7 years. In
2011, I joined Dover Youth 2 Youth (Y2Y), a youth empowerment program
focused on substance abuse prevention. In my 7 years in the program,
I have spent at least 2 hours a week in meetings. Through these
meetings and other long-term projects, including summer youth staff
and significant travel, I volunteer with Y2Y for around 200-300 hours
per year.
Students in Y2Y participate in local activities, such as presenting
to elementary school students about medicine safety, recording radio
PSAs, educating parents on consequences of alcohol use and doing
other forms of community outreach. My involvement with Y2Y has also
extended beyond my immediate community. To date, I have travelled to
CT, RI, GA, NY, WI, NC, and VT to present to both youth advocates and
adults, including some interested in setting up similar programs. I
have also travelled to Connecticut to serve as youth staff for Youth
2 Youth International at their week-long camps during the summer.
In 2015 I applied and was accepted as a Delegate to the National
Summit on Youth Activism held by Truth Initiative in Orlando,
Florida.
When I entered Y2Y in the 6th grade, I was shy and had a
really hard time putting myself out there. It was a real challenge
for me to speak in front of people. Y2Y brought me out of my shell,
and now pubic speaking, as well as vocal performance and acting, are
some of my strengths. I have also taken much from the program in
terms of educations and healing. In 2012, my
father entered treatment for alcoholism. During his recovery, I
encountered feelings of guilt, sadness, and shame. The education I
received in Y2Y about alcohol abuse and addiction helped me
understand and overcome these feelings, and gave me strength to move
forward with my family through the recovery process.
I see my volunteer activities as "forward looking," because they
are focused not only on educating students and parents about
substance abuse, but also training other youth and adults to set up
similar programs. This sets up a dynamic where my activities have
the potential for an exponential impact well beyond what I could do
as an individual. We are also passing our knowledge on to younger
members of the program, so they can carry on where the graduating
seniors leave off. Were I to leap forward in time, I would like to
believe that my efforts will have made a difference in the opioid
crisis in my community and promoted a wider understanding of
substance abuse and addition in general. In the meantime, I plan to
continue my efforts with Dover Youth 2 Youth through its "University
Team." I am also applying to programs in pharmacy and/or
biochemistry as I want to learn more about the chemical and genetic
components of addition. My future goal is to move into a career in
biotechnology or pharmaceutical companies engaged in cutting edge
research on new therapies.