Name: William O'Neill
From: Glendale , Arizona
Grade: freshmen college
School: Glendale Community College
Votes: 0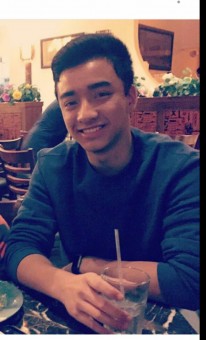 William O'Neill
p.u.f
Obstacles were in
abundance throughout my childhood from the start.The physical and
emotional implications that manifest as a product of 7 years in a
Vietnamese
orphanage would leave most students in an academic/general life
deficit. These experiences have shaped my short term goals in that I
consistently give back to my family in whatever small or large
capacity they need. The inconsistency of my early childhood drives me
to be present mentally and physically with my family, peers and
mentors on a daily basis; ultimately helping me to acquire the
knowledge I need to be successful in both my personal and
professional life. Such short strides will facilitate my long term
goal of continuing my education to influence positive change in my
surroundings. I see myself developing a skill set that will construct
a step ladder for equity in impoverished communities. I have yet to
identify a single topic/route because the deficit in my impoverished
life, spanned the seemingly infinite gamut between physical and
emotional support. I feel passionate about every disproportionate
characteristic that is endemic to low socioeconomic cultures and will
use diverse academic, social and technological experiences to find a
prominent route and solution. To make these goals come into fruition,
I will seek out as many opportunities pertaining my mission in life.
Understanding that life is full of obstacles, I'm willing to
maneuver around these barricades to continue my path in life. I would
not be where I am at without peers, my adopted parents, and mentors
that have guided me in making decisions that ultimately shaped the
strong characteristics present in my being. With their guidance and
my experiences, I now have the ability to see a piercing light in
dark situations. Being able to see an optimistic view of life in time
of chaos, has allowed me to focus on what's important as well as my
desires and goals in this world. The first step I often take is to
reach out to those closest to me and present my ideas, skills,
passion and receptiveness to their thoughts and drives in an effort
to expand my thinking and develop strong social connections. Putting
myself in others shoes and applying these lessons to my personal life
is the greatest weapon I can wield.
The tumultuous
lifestyle that came with 7 years in an adoption agency has created
the person I am today, self motivated, passionate, and hardworking.
Trauma & disturbance experienced while awaiting adoption in
Vietnam resonated as a normality perceived to be experienced by
everyone.Traveling to the U.S created a stark disturbance in my
understanding of what true normality mean. My goal is not just to
give back to the community but to the world by creating engineering
solutions for individuals that are underprivileged. I want to raise
these individuals on the congruent platform on which I stand. Some of
these engineering designs would be constructing practical and
sustainable solutions for consistently delivering nutrient rich foods
to underprivileged communities. Due to the rapid growth of technology
in my time period, I believe with the right education, I can make a
difference. This passion for giving up my life for others has been my
motivation in continuing to work hard everyday to make sure I
accomplish my life long goals. After completing my education, I'm
hoping to take the next step in ensuring all children have the
barriers of malnutrition broken as they embark on ventures of their
own–whether school, work or a personal passion. Remembering that I
didn't have the resources to live a happy childhood brings back so
much heartbroken memories of my orphan friends I have left behind. I
was the fortunate one of them–i was presented with a life that was
anew and would transport me out of poverty and into a successful
future. Living in a place with so many opportunities, I hope to
create something that will positively impact our world.