Name: Maisie Kramer
From: Brookline, Massachusetts
Grade: College Freshman
School: Brookline High School
Votes: 0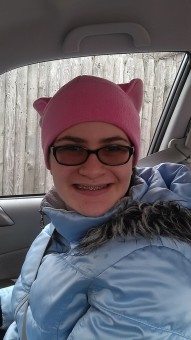 Maisie
Kramer
It
Can Wait: A Cautionary Tale
As
a child, being in the car with an unsafe driver is scary. All I knew
as a kid was that I was supposed to listen to adults because they
knew what was best for me and they wanted to protect me. When I was
in elementary school, there was an adult in my life who frequently
practiced unsafe driving habits while my brother and I were in the
car with her. Jane (not her real name) was our babysitter, and the
only thing scarier than being in the car with her was the way she
yelled at me when I told her I was scared.
I vividly remember
one snowy day. It was February vacation, and Jane took us to the
local YMCA swimming pool to get out of the house and get some
exercise. On the way back, Jane was talking on the phone while
driving. At school, they had probably done some sort of Stranger
Danger-type lesson about being in the car with a Grown-Up Who Wasn't
Driving Safely, because I asked Jane to please stop using her phone.
"Hold on a
second," Jane said to her friend. "Maisie, what did I say to you
about interrupting me while I am on the phone?" Jane hissed,
shooting me a sharp look. I looked down at my neon pink snow boots.
"Not to do it,"
I murmured.
"Right," Jane
said. She went back to talking on the phone with her friend. "Sorry
about that, I'm babysitting right now."
This scene would
repeat itself several times throughout Jane's tenure as our
babysitter. Sometimes, she would talk on the phone, but other times,
she would text her friends or scroll through her Instagram feed.
Whatever she was doing, I held my tongue because I didn't want her
to yell at me again.
Now that I am a
senior in high school, I understand that protecting my life is far
more important than an adult yelling at me. I might be scared of the
repercussions of telling the adult who is driving me to stop using
their phone, but I know that there are so many exciting things that I
have yet to experience and incredible people I have yet to meet, and
I refuse to let an unsafe driver jeopardize my chances to live a full
and happy life.