Name: Colin J. Hill
From: Berwick, PA
Grade: 11
School: Berwick Area High School
Votes: 0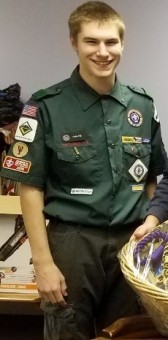 Colin
Hill
Essay:
Living a Life of Servant Leadership
Since
the 9th grade I've been on the Distinguished Honor Role every marking
period and completed 574 hours of community service hours. I've had
amazing experiences helping others with clothing/food drives,
projects revitalizing our community pool, teen center, and, bowling
alley and want to make a positive difference in the world one day at
a time. I feel the Scout Oath and Law are a way of life. My most
significant accomplishment was a two-year project working with first
responders and their families to learn about their experiences and
help people heal from the terrorist attack on "9/11." My
Eagle Project was constructing a 9/11 Memorial in front of our oldest
fire hall. We traveled to the NY-NJ Port Authority to receive over a
dozen steel artifacts from the former WTC Twin Towers. I held
fundraisers to acquire I-beams, concrete and welding supplies to
feature these artifacts with honor. A black granite monument was
dedicated to first responders who died in the attacks and those who
carry on today. I've worked with the fire hall since to emcee
annual Patriot Day Remembrance and Veterans' Flag Ceremony events.
At
first I wanted to do well in scouts because I wanted to be considered
a person people could count on and to be accepted by the older scouts
as someone who contributes to our community. As a scout I've
strengthened my resolve to be a good person in my community. Being
an Eagle is a big responsibility and it's easier to make good
choices when you live by the Scout Oath and Law. I learned much of
my leadership and public speaking skills by being active with local
servant leader groups like the Lions, Elks, Borough Council and
township, Reliance Fire Station, and even in my own school. As a Boy
Scout I give of myself and have done so for a couple weekends a month
with my family since before I was in cub scouts. This mindset has
shaped my life and provided opportunities I would not have had
outside of scouting. With the challenges our communities currently
face it's more important than ever that I stay 'prepared' in
the fullness of traditional and ethical values known as the Scout
Oath and Law.
I
used to be afraid to make mistakes and risk letting someone down.
I've worked through my fears, practiced working through challenges
and have more confidence to do my best. Now should I make a mistake
I learn from the experience and it's helped to keep focus/composure
in difficult times.
These
attributes help lead me to be named a model employee at our local
nursing home, and, engaging with others in an empathetic manner. I
appreciate what it takes to lead by not only taking responsibility to
help others as well as accepting help when offered. My most
memorable learning experiences have been learning from mistakes while
I embrace the gift of feedback.