Name: Samantha Hagan
From: Havertown, PA
Grade: Senior 2019
School: Archbishop John Carroll
Votes: 0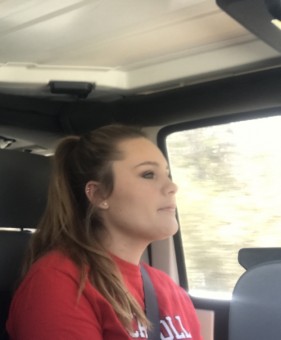 My View of being in the
driver's seat
As a
teen driver I know the freedom that comes with getting your license
but with that freedom comes responsibility. When you first get your
license and get that taste of freedom from being chauffeured around
by your parents you feel invincible. With that feeling sometimes kids
will be distracted by texting, using their phone, following
navigation systems or by other kids in the car. Kids are also
distracted by eating in the car, changing the radio, or not paying
attention to other drivers on the road. Distracted driving only
increases the chances of an inexperienced driver getting into an
accident.
The
National Highway Traffic Safety Administration reported that in 2016
alone, 3,450 people were killed in distracted driver crashes1.
Kids often will use their phone while driving which leads to them
being distracted and increasing their chances of getting in an
accident.
When
I got my permit my parents required me to attend drivers training and
I found it very beneficial. During my training I learned defensive
driving techniques, good driving habits, state laws, and how to be a
responsible driver. The class also gave me confidence in my driving
techniques. I believe that it should be a state requirement that all
new drivers attend a driver's education program before getting
their license. I also believe if it's mandatory it may cut down on
accidents which involve inexperienced drivers.
One
of the things that impacted the way I drive is that my parents warned
me of the dangers of distracted driving and that bad choices while
driving can lead to bad consequences. The choice to read a text or
take my eyes off the road may lead to an accident which could cause
serious injury or even death.
Now
that my friends are driving, I make sure that when I am with them I
am not a distraction to them. If they get a text or a call while they
are driving, I will answer the phone for them so they can keep their
concentration on the road. I also make sure that I am not goofing
around while they drive which could be an added distraction to them.
I make sure I act in a way that I would want someone in my car to act
while I am driving.
I
have been fortunate not to have been in an accident but my mom was
rear-ended by an intoxicated driver who happened to be on his phone
while he was driving. My mom was lucky that she wasn't hurt but I
can't say the same for her car. The car had to be towed from the
scene and the other driver was arrested.
I
know that with driving comes a great responsibility and that this
responsibility should be taken seriously.