Name: Damien Jordan Luna
From: Aberdeen, South Dakota
Grade: High School senior/College Freshmen
School: Presentation College
Votes: 0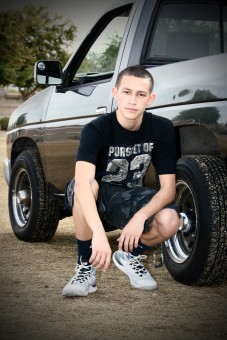 Damien
Luna
16611
North 177th
Lane Surprise,Arizona 85388
623-249-8444
My adventure of Volunteering
My name is Damien Luna and I to love volunteering
i love making people smile and knowing that I helping someones life.
I like giving back to the community and making it better for those
who need it. The area I volunteered in was APS thanksgiving festival
which was basically helping out families who couldn't afford a
thanksgiving meal, this was the most time I spent most of my
volunteering hours. The hours i spent was a good 8 and half hours
helping others get a thanksgiving meal. I actually started to do this
my 8th grade year to my senior year in high school. I'm actually trying to
plan to come back to AZ since I'm going to college in south Dakota.
The total amount of hours I spent volunteering was 90 hours from 8th
grade year to my senior year in high school. The first time i did the
thanksgiving festival i was an 15 years old i had to be 16 years old
or older to push the carts and walk them to their car or area. So
what i did was bag the turkeys for the people who came around and
picked them up or i was a card checker which was basically cash
register but we check if they the right card that we gave them in
front of the building. When I was 16 years old I pushed which we
would walk with the person or family go around the area pick up
turkey, stuffing, cooking thermometer, turkey pan, squash and cherry
pie etc. Then we would push the cart to where ever they park or what
area they would want us to drop it off at. The biggest
responsibilities would probably make sure they got every single thing
we had get, we are moving so fast because we want to get as people as
possible to get get a thanksgiving meal.the biggest challenge for me
was trying to get to know the person like what was there back story
and making small talk with them as a little 15 year old i was shy but
once i got used to it i started making a lot great conversations with
them and getting a lot of advice from them and learning from them.
The most satisfaction in my years of volunteering was getting to know
to the people meeting new people each day, knowing there back story
and what they have been through and getting life advice from them
knowing what not to do. The greatest part is i prayed with them and
having them pray for me that really got to me emotionally most of the
times. I learned a lot at my volunteer positions it really felt like
a job at grocery store such as Fry's, Safeway etc. Learning a lot
of tips from people who have done volunteering for many years and
building relationships with them.