Name: Chloe Hourdequin
From: Los Angeles, California
Grade: College Freshman
School: UCLA
Votes: 0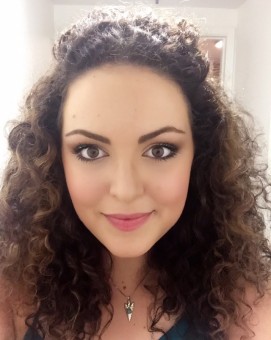 "Chloe, does this look right to you?"
is a frequent request coming from bright-eyed, eight year old,
Alexis, with her big eyes framed by thick glasses. I am delighted by
her artistic desire.
My most rewarding activity is teaching art to
vision impaired children ages six to thirteen in the Eastside of
Santa Barbara. The Eastside lies away from the affluent Santa Barbara
residents in the distressed streets of mostly poor Hispanic families.
While teaching, and being Latina myself, I certainly get to know the
students and have insight into daily struggles. At the Children's Art
Camp, I glean aspects of Alexis's life as she mentions not always
having enough food at home, or spending hours alone with younger
siblings while her single mother is working.
Alexis and I live in the County region where
there are gang shootings, school lock-downs, and hundreds of students
on the free lunch program. I see Alexis and the rest of the visually
limited young artists struggling with proportion, and other drawing
skills. She wants nothing more than to understand how lines and
shapes work together, and that is something I can help her with. I am
visually impaired and was on scholarship myself when I attended this
camp as a child. I developed artistic understanding from years of
trial and error.
I showed the camp kids beginning line work,
such as thick and thin curved line patterns, and different shading
techniques. I brought my good drawing pencils from home for the kids
to use. Using timed drawings the children had fun, while spurring
competitive drive, and reinforcing art concepts. Strengthening their
sense of perspective, I had teams of three pose while the rest
feverishly drew in the allotted one minute thirty seconds. This is a
heated race the kids take seriously with much shouting and artistic
instruction – which of course I love to see. Because Alexis would
light up and do extra sketches at camp, I thought day and night about
how to help her, and the rest of the visually impaired art students,
to gain a sense of artistic accomplishment.
Hearing the praise parents gave their children
on their art projects warmed my heart. Cleaning up after the last
day, tired and dragging that hot afternoon, the sight of Alexis
running to me, I knew she had done something great. She had entered
one of her drawings in a local contest and won second place! At that
moment I found my calling.
I want to teach physically impaired children in
need of economic assistance. I have seen that elementary to middle
school is a period where students fall away from the arts. My desire
is to learn and embrace the best teaching methods, human behavioral
understanding, and communication skills to reach the many low-income
six to thirteen year-olds with abundant potential. This afternoon a
shy girl approached me after camp asking, "Chloe, can you help
me see how to draw this striped cat?" You bet I can!