Name: Connor Jacob Bushoven
From: Paramus, New Jersey
Grade: 11
School: Paramus Catholic High School
Votes: 1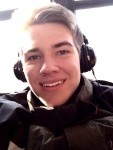 There's a growing disconnect between the perception of what we should do and what we
have to do. Service to others seems to be taking a backseat to the
priority of serving the self. I volunteer to help level the playing
field, even if only a little bit, and to help others know that they
aren't alone. I volunteer at homeless shelters and outreach groups
focused in urban areas, and in the past have helped at my church, the
Relief Bus in the Bronx, and the Bridges Outreach group in NYC. I
have also worked with the Boy Scouts my entire life and recently
completed my Eagle Scout project.
I choose to help the less fortunate because it really takes me out of
my comfort zone and challenges me mentally and spiritually. My
responsibilities have run the gamut of handing out food and supplies
to cooking to working in a prayer room and translating for the
Spanish-speaking citizens of the Bronx. Both the volunteers and
those being helped keep me coming back. I've met a woman taking
care of her illiterate uncle, a man dressed head to toe in clothes
covered in words he wrote himself, and children in the neighborhood
who looked up wide-eyed as they were given something as simple as a
glass of lemonade. These people are why I come back–each one brings
their own story, and through volunteering I get to be a part of that
story. What is most difficult for me to deal with is wondering why
these people that I meet are in need–be they homeless,
poverty-stricken, or sick. It is not fair, and that makes me wonder
why I'm not in the same situation.
The wonder of the little children, the relief of their mothers as they
find a place to sit in the shade on a hot day and just rest while
their kids are occupied–these reactions bring me back. From my
position as a volunteer I have learned responsibility and how much my
actions can affect others when directed towards a worthy cause. In
the future, I hope to continue volunteer work and to continue trying
to make the world into a place where people know that they are not
alone.
My career goal is to work in the animation industry and to work at a
studio. The profession is time-consuming but I would be pouring my
energy and effort into something that I would hope would bring joy to
many people worldwide. Volunteer work is a way for me to physically
be there and assist those in need, and I hope to do this in the
future whenever I can and also provide a source of inspiration for
kids and their parents alike.
Years ahead, I believe that it is very possible that my work will have had
an effect on at least one person. Although I was not creating a
lasting structure or facility, the effects of showing someone that
you care may very well last a lifetime.