Name: Ynigo Lorenzo Miguel Vitto Reyes
From: Cypress, Texas
Grade: 11
School: Cypress Ranch
Votes: 94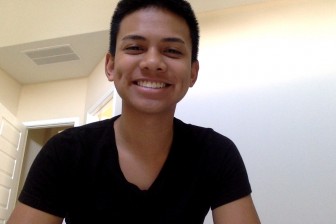 A Better Environment
Serving my community has become a major part of my life because it truly makes
me happy. I have always had a passion for music, so in 2013 I joined
my youth group's music ministry. I am now actually the head of this
ministry and plan on continuing my service for as long as I can.
Every Friday, I am given the opportunity to change someone's life
for the better because of the music I play or the lyrics I sing. It
is an amazing experience to be able to see your friends and family
immerse themselves in worship because you have created a better
environment for them to do so. The voices that echo mine and fill the
room with true and purposeful music is the reason I am able to look
past the hours of preparation and intense practice.
As a leader in this ministry, it has become my duty to pastor, provide and protect the
ministry as a whole and the people around me. There are many
distractions that can hinder a person from reaching their full
potential spiritually. They could be distracted because of
relationship problems with friends or family, guilt in their heart or
even the person next to them. It is my job to eliminate as much of
these distractions as I am capable of so that everyone, whether they
are playing an instrument on stage or in the crowd, is able to focus
on the one thing that matters at that point in time, which is prayer
and spiritual nourishment.
This past summer I was blessed with the opportunity to play bass guitar for a Youth
Conference in Dallas. Youth from several cities in the MidSouth
region came together as one to worship and learn more about their
faith. I spent 2 weeks with an unfamiliar band but I knew there was
work that needed to be done. My goal was to create music that would
lead people closer to God, but there were obstacles and distractions
along the way. The hardest obstacle to overcome was the amount of
experience we had individually. Some members like the keyboard player
and myself spent a lot of time on our instruments and learned the
"in's and out's" of the music we played. Some members haven't
played their instrument in years. Although it was awkward at times, I
learned a lot about musicality and teamwork because of this situation
and it has shaped me to become a better minister and musician and
friend.
The continuation of my faith depends on the people I look after and their attitudes
toward it. Do they want to spread His message to their friends and
family? Or do they want to bury it and forget. Looking forward, I
hope the work I do today will continue in the generations to come. I
hope that through my service that they too, will strive to create a
better environment where people can get closer to their faith.