Name: Noah Rodighiero
From: Denver, CO
Grade: First-Year College Student
School: University of Denver
Votes: 0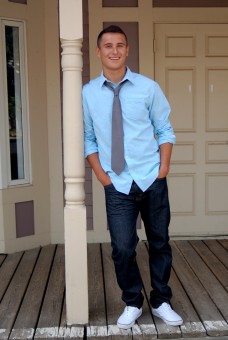 Growing up my mother always emphasized how blessed we were as a family and
how important it is to give back to those who are less fortunate.
From a young age I always disregarded volunteering and giving back as
not as significant as my mother made it seem. However, as I entered
high school my mother encouraged me to broaden my horizons by taking
hold of certain opportunities that allowed me to serve in a way that
was significant to me.
Ever since I started high school in 2011 I have been heavily involved in
volunteering for programs that aid in the development of youth.
During my freshman, sophomore, and junior years of high school I was
apart of a mission team, consisting of students from Faith Christian
High School, that traveled to Dakar, Senegal for two week periods at
a time in order to provide vaccinations, showers, food, and other
resources to orphanages in need. This service opportunity lasted me
about six weeks all together and it is a place I hope to go back to
someday to serve.Two other major volunteer opportunities that I have
and still take part in today usually give me a chance to give back
mainly on Sundays. One of these volunteer opportunities includes
lending a helping hand at the Crossroads Church of Denver every first
Sunday of every month. In order to help out the Church, I volunteer
in the nursery for the two services that take place that Sunday. This
unique opportunity requires me to watch over anywhere between ten to
twenty children that range between the age of two to three years old.
On the other three Sundays of the month I volunteer at the Children's
Hospital Colorado, located in Aurora where I am involved in providing
patients with toys, movies, or games in order to keep them busy
during their time of medical treatment. These two service
opportunities on Sundays usually add up to only about three hours a
week, and twelve hours per month.
Although I wish I had more time that I was able to give to all these children
in need I believe that my service does make a positive impact no
matter how small the amount of time. Growing up without a father in
my life I always desired a "fatherly" figure that I never got the
opportunity to have. This lack of a role model in my life when I was
younger is what pushes me to be one for the youth today. I believe
that through my volunteerism I can provide youth with that
"brotherly" figure who can provide love, support, and care.
Although I volunteer to give back and to hopefully give as much as I can to
those I am serving, I have also learned just as much. The various
number of kids I have worked with throughout the years have all
taught me one simple thing which is: you can find joy in the simplest
things of life. Children do not need much to be satisfied and that is
something that I hope I can carry with me throughout my life in
adulthood.