Name: Samantha Balconi
From: Peoria, Arizona
Grade: 11
School: Liberty High School
Votes: 0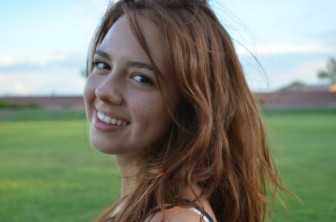 For about five years now I have volunteered at my local library. I began
due to my acceptance into the National Junior Honor Society and later
the National Honor Society. During this time, I have alphabetized and
shelved books and movies. I have cleaned and organized different
areas of the library and I have provided help to patrons. Through
this experience, I learned the value of hard work. I have always
applied myself to my school work, but never in a situation in which
my work affected others. I believe that this experience was a crucial
part of becoming the person I am now.
On a few occasions, I volunteered at a retirement community during
Christmas time by singing Christmas carols. Also during Christmas, I
wrapped presents for families that could not provide gifts for their
children. Both of these occasions allowed me to view the world in a
different light. I saw people who were very sick and close to the end
of their lives. I was able to bring these people a little bit of joy
during this time. I shopped for families who did not have enough
money to even give their children a gift during Christmas. I helped
these families give something for a moment of happiness with their
children. After these experiences, I realized that I wanted an
occupation that would allow me to help people in some way. That is
why I aspire to become a Biomedical Engineer, so I can help solve
health problems and hopefully save lives.
I am an only child of divorced parents, so I had a hard time sharing as
a child. These volunteer experiences opened my eyes to many aspects
of the world. I began to see what life can do to people throughout
time and even how it can hurt young, innocent minds. This has
inspired me to always try to help someone in need, to stop being
selfish, and give when I can. Through my volunteering experience,
there have been some ups and downs. On occasion, a patron at the
library will yell at you if you do not have the information they are
looking for. My worst experience was when an old lady told me that I
was useless and I should not work at that library because I did not
know what I was doing. She said this because I could not find a book
she was looking for. This experience also allowed me to grow as a
person even though it was traumatic. I learned to be patient and to
not let others define what I am capable of.
Over all, volunteering has made me a better person and helped me discover
my future occupation. I learned that helping a little goes a long
way. Like the butterfly effect, helping one person can change their
life and yours. Whether they change through personality, motivation,
emotions, or ideas. Helping one person can help change the world.