Name: Lindsey Garnel
From: Allentown, Pennsylvania
Grade: High School Junior
School: Parkland High School
Votes: 23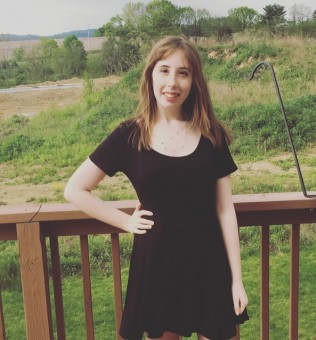 Lindsey Garnel
Youth Forward
Scholarship 2016
" We Can't
Marry – We don't have our own room!"
" We can't marry- we don't have our own room!" After many
dates filled with apple juice and cheerful laughter, Edward finally
decided to propose to Julie. There was just one problem- Julie and
Edward were both residents of a nursing home , and Julie wouldn't
marry him unless they could live in their own house . Eventually ,
Edward moved to a different unit, as he began to develop a more
serious case of Alzheimers, and the couple lost touch. They taught me
a very important lesson. Love can occur in the strangest places and
can create a light that glows in the darkest of locations. They never
left my heart ,even after I completed my volunteering for the
summer.
My life changing journey all started in the middle of June 2015, just
after school ended. I signed up to work six hours per week until the
end of August. At first ,I thought it would just be something to do
to keep my mind active for the sumner. It did more than keep my own
mind alert, it brightened other minds as well. Some responsibilites
included, cleaning, chatting, and being the best bingo caller they
have seen! Yes, where I volunteered , bingo time was exactly like the
movies. Some challenges included becoming too involved with their
stories, as when they cried, I went home and cried in my pillow for
them. I have to say, the most satisfying and rewarding part of
volunteering at a nursing home, is turning a frown upside down and
seeing the elderly light up as I took interest in listening to their
incredible stories. In addition, I have learned so many life lessons
from their incredible stories. Gary's war stories taught me to
never give up . Mildred taught me to dream big. Finally,Edward and
Julie's love story taught me to never lose hope.