Name: Caroline Grace Duffy
From: Burbank, CA
Grade: High School Senior
School: Providence High School
Votes: 0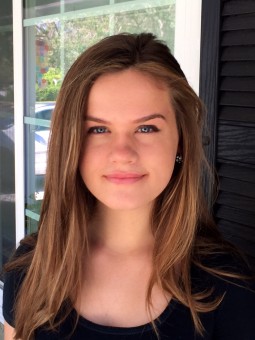 When I look around the world today, I see problems with very few easy solutions in
sight. Poverty, homelessness, war, prejudice, politics, inequality
and the environment all seem to be overwhelming issues. I am
determined to try and deal with everyday problems and fight for the
real changes we need today. President Kennedy, in a speech at Amherst
in 1963, said, "It seems to me incumbent upon this and other
schools' graduates to recognize their responsibility to the public
interest…unless the graduates of this college…are willing to put
back into our society those talents, the broad sympathy, the
understanding, the compassion… then obviously the presuppositions
upon which our democracy are based are bound to be fallible." Many
people have become apathetic about social issues, at a time when it
is imperative to find answers. That's why I am a volunteer.
I volunteer at Hope of the Valley and LA Housing serving the homeless in our community. I
have been involved with these groups since I was eleven. Working with
homeless teens made me realize what a tough life some of my own
classmates face. This brought home to me the fact of how lucky I am
and that there are many people in our country and beyond, who are one
paycheck away from the same issue.
Locally, I served as an intern for Los Angeles Councilman Tom LaBonge and was a
counselor in training for the Burbank YMCA, over two summers. I
volunteered at the American Cancer Society Discovery shop, in support
of my mother, a cancer survivor. I also volunteered at the Burbank
Temporary Aid Center and St. Charles Borromeo Outreach with my
mother, supplying food to the homeless and struggling in our
community.
I am founder and president of Habitat For Humanity at Providence High School and was
an active member of Students without Borders, at my old school. I
tutored students at Providence for the National Honor Society and
California Scholarship Federation. I am proud to be treasurer of
Operation Gratitude, an organization that gives back and supports our
nation's soldiers and veterans. I received the Christian Service
Commitment Award, for volunteering over twice the required hours. All
told, I have over 700 service hours.

My work in the community truly gave me a different perspective on my
life and those around me. I learned that wishing something were
different or better rarely changed the situation. I also learned that
from the ashes of failure, can bloom beautiful, productive success
stories. Many teens today ignore volunteering because they are afraid
of what they do not already know. I believe that everyone can benefit
from giving to others and know that I've gotten more than I've given.
I will continue to do what I can at UC Berkeley and beyond. I'm
proud to be called a volunteer.