Name: Naa Ashitey
From: Chicago, Illinois
Grade: Junior
School: Lincoln Park High School
Votes: 39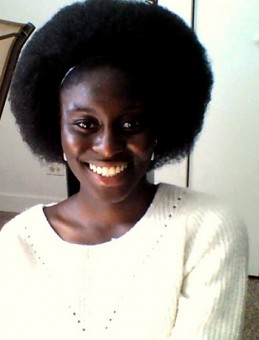 Center
for Care and Awareness: My Volunteer Experience at the University of
Chicago
I walked through the revolving doors at the University of Chicago
Center for Care and Discovery Hospital, greeting the security guard
with the flash of my hospital ID and a smile. I taped my ID on the
black panel, opening the large door that led me to my first day as a
volunteer, and a journey that would help confirm my career interest.

As a Patient Liaison volunteer, I was responsible for bringing
magazines, coloring pages and talking to patients to make their stay
as comfortable as possible. I wanted to get more involved in the
health sector during High School, since I knew I wanted to work in
the medical field as a General Practitioner.
I took the elevator to the eight floor, opening the automatic door that
led me to my first paitent. I knocked on the door, hearing my
patient give me permission to enter.
"Hi, my name is Naa and I'm a volunteer here at the hospital, is there anything I can do for you?"
"Actually, I would love to just sit and talk with you."
My heart fluttered as I sat down on the couch to listen to the many
interesting stories my patient had. Even in the patient's health
condition, the stories reminded me that this is just another chapter
in one's life. The praise that the patient gave all the doctors and
nurses who assisted in the recovery process made me realize that I
want to have the same ability of helping people in a situation where
the odds are against you. Soon, it was 6:30 PM and my two-hour shift
was done. I had to tell my patient that I had to leave but I left
some crossword puzzles and refilled the patient's water.
"Is there any other thing that I could do for you before I leave?"
"No, Thank you. Thank you for caring and being here with me."
These12 words made me realize that this is something I want to do for the
rest of my life. I walked out of the room with the feeling
satisfaction, but also knowing the medical field was the place for
me. I signed out of the hospital for the day, excited for my four
hour shift the next day.

Volunteering at the University of Chicago Hospital for the past seven months has
allowed me to increase my confidence of entering the medical field.
For each visit, I strive to make my patients laugh to distract them
from their pain and listen to them talk about their doctors! I am
thankful for all the experiences that I have gained from working at
the Center for Care and Discovery and learning that I have the
ability to help someone by a simple phrase:
"Hi, my name is Naa and I'm a volunteer here at the hospital, is there
anything I can do for you?"