Name: Adrienne Krozack
From: Stevensville , MD
Grade: 10
School: Kent Island High School
Votes: 0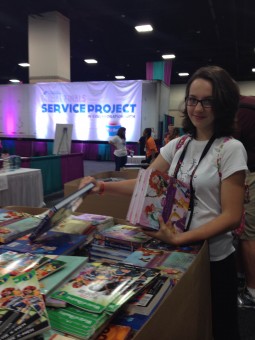 I enjoy community service projects because they offer a change in
perspective. Community service makes me realize what I have and not
to take it for granted. That is why at the end of my eighth grade
year, I decided to help those that were in critical situations. I,
along with a small team of students, worked together to throw a baby
shower for ten unexpectedly pregnant women and eleven unborn children
at a local pregnancy shelter. Each mother was young and financially
unstable, lacking essential supplies for raising their children. My
team and I decided to gather baby supplies such as baby powder,
lotion, baby food, etc. to be given to the mothers as baby shower
gifts. I took a leadership position in my team to gather the baby
supplies to give to the mothers as gifts. I approached countless
local businesses for a few hours each week after school for roughly
two months and asked for donations or gift certificates to their
establishments so that I could purchase necessary supplies for the
mothers. This step in the project was my biggest challenge. Some
business owners were unwilling to talk to me or provide donations.
However, I gathered as many baby supplies as possible for the
underprivileged mothers and all in all, I was able to collect over
$2,000 worth of items, including a bassinette and a car seat. At the
baby shower, I received the most satisfaction from my volunteering
when I saw happiness and gratitude from the mothers and their loved
ones. The success of the project and my volunteering position allowed
me to learn that what I have must not be taken for granted and that
anything may be accomplished through perseverance and hard work.
My volunteering was "forward looking" as I sought to complete a
project that would have an impact on someone's future.
Specifically, the futures of the mothers who would be working to
raise their children with the materials we supplied them with. To me,
this meant helping make someone's future a bit easier and happier,
even if it was only by giving them a bottle of baby shampoo, for a
little bit of help can make a world of difference.
After the completion of the baby shower project, I didn't stop there. I
went on to volunteer for my local food pantry and book drive, sing
for my church, assistant teach various summer sports camps and summer
Bible camps, assistant teach Sunday school, volunteer at local
marathon races supporting charities, performing in holiday charity
benefits, and even interview residents of a local nursing home and
create scrapbooks about their lives with a couple of friends.
If I were to revisit the lives of people who I assisted years from now,
I would see a minimal difference. Despite this fact, I hope that my
volunteering, as small as it may be, made the world a bit kinder and
a happier place to live in and positively influenced the people in my
community.