Name: Aaliyah Hart
From: Chester, VA
Grade: 12
School: Johnson & Wales University
Votes: 0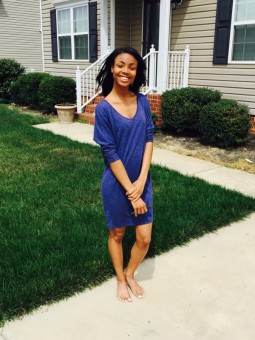 A
Charitable Hart
Aaliyah
Hart
I volunteer at Colonial Heights Food Pantry, I chose this program
because food is a necessity and no one should should be without a
meal. At the very minimum, I volunteer twice a week which calculates
at an amount of 4 hours a week, 16 hours a month or 192 hours a year
and I am on call for any days where other people may not be able to
cover the pick ups. I drive to the local grocery stores and pick up
dairy, meats, breads, etc.. and I transport it to the food bank.
There the food is weighed, packed up and sent to an organization that
distributes the food to those in need.
The biggest challenge for me is the weight of all the food that the
grocery provides me, I must figure out during that process how to
logistically pack the car with all of the food. I have never had to
leave one item behind.
What keeps me going is knowing that I'm giving up some of my time and
helping those in need, I feel more connected to people in my
community. My interest and career goals are centered around Culinary
Arts. Since I was about four years old my grandmother had me in
kitchen learning to stir, pour, mix and roll out dough. The thing I
remember mostly was the love and knowing that what my grandmother and
I were creating was going to feed people and provide a necessity and
it gave me a great feeling. I want to share that feeling with others
and show them how giving back and expecting nothing in return will
give you more than you can ever imagine. I will own my own bakery one
day and I will donate breads, cakes and other food that I make to
those that are in need.
Forward looking in this volunteering position means passing my activities
down to my younger cousin once I am no longer available to conduct
these services in this location. Soon I will be off to college and
I'll need someone to fill my spot. I have already begun to make
arrangements for my pick-ups to be covered when I leave to go off to
college.
The change that I seek to foster is to let people know that they are not
alone and when times get a little difficult that they are people who
care and that we should bond together to lend a helping hand. Don't
give up hope!
If I were to come back in twenty years I honestly believe that the work
I'm doing now would have made a difference in this program. There's
five volunteers that go to the particular location I go to, to pick
up the food and out of those five, four of them are my family
members. I envision this becoming a trickle down effect and they get
more people involved also which will grow into multiple facilities
providing food to the needy.