Name: Anthony Maurice Phillips Jr.
From: Atlanta , GA
Grade: 12th
School: KIPP Atlanta Collegiate
Votes: 0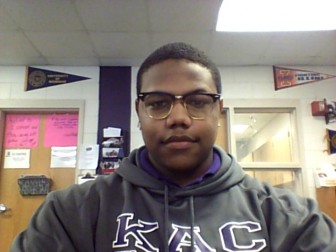 Anthony Phillips
Youth Forward
Scholarship
I have been volunteering since the ninth grade. My first volunteer
experience was at a math camp that I personally attended when I was
little. Every summer up until the twelfth grade, I volunteered at
this math camp. I came everyday from 7AM to 6PM, and I was always
busy. In the morning, I helped prepare the campers' food and served
the breakfast. After breakfast, we split them by grade level and put
them in different classes. Once they were all in their classes, I had
to mop and clean where they had eaten. Once I had cleaned everything,
I was given the choice of which classroom I wanted to help. I always
went to the first grade class because this class needed the most
help. Since the students were learning basic math, I felt confident
that I could help the campers' learning. After class was done, we
would go on a field trip every day. Some days we went skating or
swimming, and other days we enjoyed a movie or went to the park. As a
trusted volunteer, I had numerous and varied responsibilities at this
camp.
My biggest challenge at the math camp was keeping the kids focused. They
had so much energy and always wanted to play. In order to keep them
on task, I often had to warn them that they were not going on the
field trip if they did not finish their work. However, helping these
kids learn how to do math, one of the hardest subjects in school,
made me happy. The campers were helping me become a better person
while I was helping them become a better student. I learned that not
all children are on the same level of learning, and some students
need more one on one help than others.
Another volunteer experience I loved was last summer when I had an internship
at a veterinary hospital. At the veterinary hospital, I assisted with
three dog surgeries. One of the surgeries that I participated in was
removing a mass from a dog's back. They taught me how to read the
monitor while the dogs were under anesthesia to make sure that their
breathing was under control. Also while in surgery, I wrote down the
dog's vital signs, like how many seconds it took for their gums to
turn pale and how much anesthesia the animal was under. After the
surgery, my responsibility was to watch the animals to make sure they
were feeling and progressing well after surgeries. This experience
opened my eyes to what I would like to do in the future: become a
veterinarian.
By the tenth grade, I finished all of my required volunteer hours,
earning 140 total hours. However, I loved helping people so much that
I continued to volunteer through high school. I am now a senior and
have served 296 hours from volunteering and internships. I am always
happy to be the reason that people have a smile on their face.