Name: Quincy Pyles
From: Springdale, Maryland
Grade: 11th
School: Charles Herbert Flowers
Votes: 15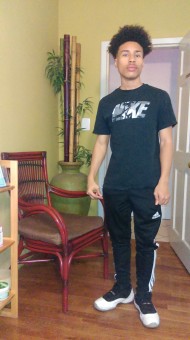 I am a volunteer at Prince George's County Maryland Teen Court program which gives me an opportunity to realize my role in the community, instills a sense of pride and responsibility and, through the use of positive peer pressure, helps create a better community for all. Teen Court is a diversion program in which teens decide the real-life fate of other teens who've committed low-level offenses ranging from shoplifting, truancy, assault, minor drug, alcohol and vandalism.  The jury attempts to target the root cause of an offender's actions by asking the defendant questions about his or her involvement in a non-adversarial setting prior to determining a sentence. Sentencing options typically include community service, letters of apology, jury duty, attendance at educational workshop, anger management classes and tours of correction facilities.  I believe that as a teenagers, I could get through to other teens in a way that adults cannot.  Teen Court comes to order twice a month in the County Courthouse.  A commitment of at least once a month for four
weeks is required however, I have committed more than 50 hours and
participated in 30 court cases since signing up for the program in
June 4, 2015. The time commitment is small when compared to the
rewards of helping and shaping young lives. I have served as clerk,
bailiff, and jury for over a year and participate in 2-3 cases twice
a month.  I volunteer to help teen offenders, not to judge them.
I believe that imprisoning young offenders actually increases their
odds of committing more serious crimes. I strongly feel that youth
court is a better way to respond to many minor offenses than the
criminal system. Study shows that it costs $500 to send a kid to teen
court compared to the $5,500 cost per child of appearing in juvenile
court.
Volunteering can be a rewarding experience, and unlike many other types of community services I have been a part of, Teen Court provides valuable information about the legal system, interaction with elected and appointed government officials, development of critical thinking skills, development of public speaking skills and meeting a diverse group of people.  As a Teen Court volunteer, I enjoy learning
about the criminal justice system.  There was a court case
involving a teenager hanging out in the community with his friends
passed the "curfew" established for youth in the county.
The curfew's law states that individuals younger than 17 to be off
the streets and out of public areas from 10 P.M. to 5 A.M. on
weeknights and from midnight to 5 A.M. on weekends.  To everyone
surprise, including the adults in the courtroom, no one knew about
the time restriction and if caught wandering the streets during the
establish time, a teenager could be picked up by law enforcement.
As a teen juror, I have improved my problem-solving and
conflict-resolution skills.  One of my biggest challenge as a
teen juror volunteer is ensuring that each defendant receives fair
sanctions in proportion to their offense.  Although my career
goals does not align with judicial system and other volunteering
activities I support in the community, such as Soup Kitchen for the
poor and homeless, County Recreational Parks—collecting and
harvesting natural materials from the forest and wetlands and
planting trees, Park and Recreation facility-working with kids, and
school-fund raising activities, I plan to continue supporting my
community while pursuing a career in Information Technology.  In
addition, I am a member of the Young Democrat Organization at my
school so looking towards the future, I plan to continue my political
activities to concentrate
on increasing the voter turnout of young people and affecting the
issues affecting this demographic group.  As for, Teen Court, I
will age out of the program at eighteen but I will look for
opportunities to intern at the Courthouse.
The change I seek to foster in the world via my Teen Court experience is to reduce recidivism — help decrease juvenile delinquency by
interrupting the beginning stages of criminal behavior.  I
believe that our youth are our community's greatest assets.
Everyone has a right to be judged by a group of his or her peers, and
people deserve a chance to make up for their mistakes.
Even though volunteering at Teen Court is not a long-term commitment, I believe I made an impact on the lives of many teens.  I probably won't remember their faces or names years from now, but I would like to think that my participation and words of wisdom contributed to the rehabilitation of youths.
I believe that unpaid volunteers are often the glue that holds a
community together. It is only when people step forward – either as
local, national or global citizens – that sustainable change
happens.