Name: Asantewaa Hooks
From: Charlotte, NC
Grade: 12
School: University of North Carolina at Charlotte
Votes: 0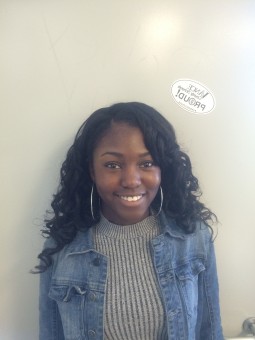 As many things and people
there are doing their best to destroy the world, whether it be
environmentally, economically, or socially, you should always try to
do your part and help to save it. I never realized how important
volunteering is until I got into high school, and I have tried to do
my part ever since then. The first time I volunteered was definitely
the best volunteering experience I've had so far. It led to me
becoming even more involved in my community.
Durham
Parks and Recreation Summer Volunteer Program:
There were about five of us in this program and we were all around
the same age. During the span of two weeks, we went to lots of
different places and did volunteer work. We went to a soup kitchen
for the Durham Rescue Mission and helped make food for the homeless
and and we sat down and ate with them. We went to a senior citizen
center and we met with senior citizens that had to use wheelchairs.
We all took a bus to Walmart and helped them shop. The lady I
escorted, Jean, actually went to high school with my grandfather
which was a huge coincidence, so it was nice meeting her. We went to
a food bank and we sorted tons of good fruit from the bad fruit,
which was pretty disgusting. They were in these huge boxes and when
you got towards the bottom there were lots of insects and of course
a room full of rotting fruit didn't smell too pleasant, but it was
a pretty cool experience. Without that place so many people would go
hungry, so it was definitely worth it. Sometimes we didn't even
leave the downtown area. We just walked around with trash-grabbers
and picked up the litter around town. When people saw us they would
nod and smile, and it was reassuring because we thought we were just
kids picking up trash, but it was bigger than that. I think that
seeing us made them want to do better. In fact, I'm almost
positive we changed the minds of a few potential litterbugs. When
that program was over, I did a lot of other volunteer work as well.

Great
Human Race in Durham:
I helped set up and clean up at the Great Human Race. Then we went
to the finish line and passed water cups to the runners as they were
finishing.

Bull
Moon Ride and Run in Durham:
I did basically the same thing here. It was pretty cool to see
everyone passing the finish line, especially the first person. It
has got to be a great feeling to run in the wind and be the first
person to cross the finish line. I've always wanted to do
something like that, but I have asthma, so it's not really an
option, but I love to watch. That's why I have been the track
manager at my school for the past three years.

Durham
Food Bank: I also
went here a second time during the school year, with my mother. I
did the same thing that I did with DPR, but this time I was with a
bigger group of people. We sorted food from 9:00 a.m. to 12:00 p.m.
and when we were done, they provided lunch for us.

Maria
Parham Hospital: I
volunteered here for the whole summer of 2014. Every week, on
Wednesday and Thursday, from 8:00 a.m. to 12:00 p.m., I went into
Records and I filed papers and did anything else they asked me to
do. I also got to go inside the hospital sometimes and see how
everything works. It made me realize so much more how I don't want
a job where I have to sit at a desk all day.

GoodwilI
Industries in Durham:
Here, I made flood buckets. There was about 15 of us and we made
like 500 buckets with necessities for cleaning up after a flood.
There were things like gloves, sponges, cleaning products, and
wipes. Lots of people don't realize, but floods happen more often
than you think. People have to go back to their homes even when
they've been overflowing with water. Flood buckets are given to
families so that they can have something to clean their homes with.
It's not much, but it can have a huge impact when you have
nothing.
However, out of all the
volunteer work I've done, the DPR Summer Volunteer Program changed
my outlook on a lot. We did small things, but the small things can
make a difference. I'm saying that literally and metaphorically, as
in younger people can make the biggest differences.
My family has never been the
most fortunate, but I've always been grateful for what I have because
I know that things could always be worse. When I volunteered at the
homeless shelter I realized that there are people in your own
community that don't have anything to eat or a place to call "home".
The fact that there are people that are sleeping out there when it's
20 degrees outside really brings me close to tears. It is wrong of me
to complain about something that I don't have when there are people
that are right outside my window that actually need what I do have.
It is wrong for me to waste excessive amounts of water when some
areas are nearing a drought. It is wrong for me litter and not
recycle when there are places that are overflowing with trash. It is
unhealthy for the Earth, which means it is unhealthy for us as people
who live here. Don't get me wrong, we all slip up sometimes, but it
is something that I'm continuously working on. Volunteering is
something that we all should work on.