Name: Brooke Regina Gunter
From: Moore, Oklahoma
Grade: 11
School: Pathways Middle College
Votes: 0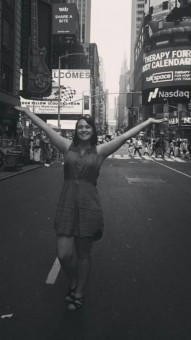 My freshman year of highschool I found out about a youth art program
called the Teen Arts Council. In this program we talked with local
artists about their ambition and passion for the arts, as well as how
to create a career as an artist. We also volunteer during many of the
local arts festivals, either painting faces, or helping in the
children's tent. Now in my senior year of high school I am president
of the Teen Arts Council and volunteer about 15 hours a month to
setting up meetings, volunteering, and working with my group. When we
work during festivals we run the face painting booth, where I
coordinate volunteers. I was responsible for not only finding
volunteers but making sure each person knew what to do once they
arrived. My biggest challenge through my volunteer work is time.
Senior year is a very busy year for me. I am currently attending a
middle college high school which allows me to take college classes
for high school credit. So with my volunteer work, college classes,
work, and applying for universities, my free time is very limited.
What I love most about volunteering is the impact it has on other
individuals. Getting to see the faces and appreciation of those you
have helped or worked with is the reason I work as hard as I do.
Through working with TAC I have learned a lot about leadership,
commitment, and responsibility.
I see my work with my community as forward looking because each year I
continue to meet new people and work within my community, I get the
opportunity to branch out and make new connections. Forward looking
to me means doing things now that will affect your future for the
better. Through my volunteering I would love to continue to see more
of a growing presence of the art community in everyday life. My dream
is to walk down the streets and see murals and street art spilling
into everyday normal life. When thinking about the impact I have on
those I've worked with 10 years from now, I would hope their
passion for combining volunteer work with the arts would continue on.