Name: Geoffrey O'Connell Yoste, Jr.
From: Oxford, MS
Grade: Senior
School: Attending hte Univeirsty of Mississippi (Ole Miss) in the fall of 2016
Votes: 0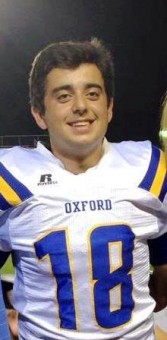 GOY, Jr. College Scholarship Essay
It is my intent
to pursue an accounting degree at Ole Miss, my parents have provided
a wonderful life for me but I feel it is incumbent of me to help pay
for my college tuition and expenses. I have a younger brother and
sister that are not far behind me in school so every little bit I do
will help us all.
I have been very
active in my community of Oxford, Mississippi. I have volunteered
with Love Packs helping collect, assemble and distribute food to
local school children of lesser means. It feels great to give back.
My example for this was most likely my father who is a retired Army
Officer. He has taught us to be civic minded and to give back when
we can and not only in our church but our community as well. I was
fortunate to be selected to attend the American Legion Boy's State
last summer, this program taught me a lot about our city, county and
state government and how the political process works. While I don't
think elected office may be for me, I do plan to serve in some
appointed capacity one day if I am extended that opportunity. I
think you should give where you live.
I have a 25 on my
ACT and a 3.5 GPA. Moreover, I have played varsity soccer for the
last three years and have placed all-district each year. Moreover, I
have been a varsity kicker on our football team; we have won the
district each of the last three years and made it to the state
playoffs each year. I hope to continue playing sports thru
intramural sports, but my main focus is to get a degree and then
possibly my masters or a law degree. I have also enjoyed clubs while
in high school and been active in the following, Fellowship of
Christian Athletes, Spanish Club & YoungLife. High school has
been a great experience and I look forward to learning and creating
more memories in college.
I would sincerely
appreciate your consideration for this important scholarship. If I
am fortunate enough to be selected I promise to do my best and make
you glad that you chose me.