Name: Kathryn Patrick
From: Dalton, GA
Grade: Junior
School: Dalton High School
Votes: 0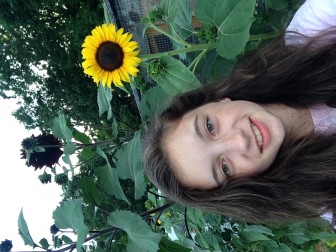 Community Service has become a very important aspect in my life. The Dalton
Area Project, or D.A.P., is a mission project run through the Dalton
First United Methodist Church. The project serves people in our area
who need repairs around their homes, but can't afford repairs or
can't do the work themselves. Our motto is "Student led, Adult
supported", meaning the students are "in charge" of leading the
work site while the adults are there for support. The work can span
from painting, cleaning up trash, fixing support beams, plumbing and
repairing holes in floors.
In the summer of 2015, I was on a work site painting the interior of a
house with my team for a family who had sons in the military and
could not do the painting themselves. During D.A.P. 2016, I had the
opportunity to be a student leader, or tour guide. As tour guides, my
partner and I were in charge of running a work site and encouraging
my team of 6th to 12th graders to work together and finish our project. My team in 2016
helped a 70-year-old woman fix her sinks and bathtub. She and her
daughter had not been able to bathe in their tub in over a year,
therefore they were reduced to bathing in their sink. However, both
of the sinks in the house were leaking. We gave this woman a brand
new bathroom and fixed her kitchen sink.
Another major aspect is the relationships with other youth and homeowners.
Through the five-day period students get to know their homeowners and
their team because of the daily devotions and the long hours. After
the work day is done the students stay the week at the church
worshipping and getting to know people from various places. Teenagers
came to D.A.P. from Atlanta, Kentucky, and even Germany. My favorite
part of D.A.P. is getting to meet all of these people.
I have learned so much about leadership skills and faith through this
mission project. I have learned how important communication is while
being a tour guide also. My biggest challenge during this time was
trying to learn about power tools and construction as well as
teaching the other kids in my group. Because of our efforts in
Dalton, there have been mission projects similar to this started
throughout Georgia, Nicaragua, and hopefully Kentucky and Germany. I
hope that this project continues to spread and sets an example of
loving thy neighbor to the world.

In the four years I have participated in D.A.P., I have volunteered over 200 hours on
worksites. I am glad to have this experience, and I am excited to
continue volunteering with D.A.P. in the future. Volunteer work has
given me invaluable leadership experience that will carry over into
any future plans. I do believe that it has made a difference in our
town and improved the lives of hundreds. I hope to encourage giving
back when I become an adult and work with youth.