Name: Emma Sweeten
From: Blacksburg, VA
Grade: High School Senior
School: Virginia Tech
Votes: 0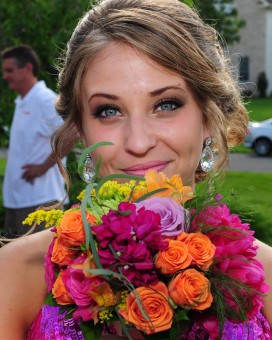 Serving others is not an act but a lifestyle. Through countless hours of
volunteer work I have discovered how important it is to be attentive
to the needs of others. Doing so generates a happier, more
sympathetic world. If everyone took one day to step back and assist
someone in need, they would spark their hearts with compassion to
help, teach, and serve others.
For four years I have volunteered in a sports program for kids with
disabilities. Committing approximately three hours per week, I have
spent time with blind and autistic children, toddlers with Down
Syndrome, and teenagers with severe ADD. The program allowed me to
become close with the kids while coaching them in various sports.
Being with them every week showed me the difficulties these kids face
in just living their everyday lives. Often I would need to come up
with alternative ways to keep them attentive, on track, and having
fun, which was not ever easy. But seeing a kid's eyes light up was
the biggest reward offered. Their hearts are so filled with innocent
love; even the smallest hint of enjoyment from them felt like a
blessing.
Altogether I've learned that no two people have the exact same challenge.
Everyone comes from a different place and therefore requires
different help. Working with disabled children has inspired me to use
my own skill set to do whatever I can to help out. Paired with my
love of design and passion for architecture, I have been led to the
conclusion that I can serve society through changing building design.
As a budding architect, it is my ultimate goal to create buildings that
are more handicapped accessible. Many people are restricted from
visiting floors or buildings because of their disabilities. For those
confined to a wheelchair, there should be an alternative to stairs
that fits fire safety standards. But there is more to "handicap
accessible" than just ramps and elevators. I want to deal with
things like easily maneuverable hallways for wheelchairs and larger
people, sound-proofed walls for the mentally challenged, and special
doors for people who use walkers.
Going into an architectural career is a way for me to gain skills and
knowledge that will help me understand the special needs that these
people have concerning things like public spaces and homes. By using
my gifts and education, Looking forward I can see how I will use my
career to advance the world of architecture as we know it; it is
essential to use our futures as a reason for motivation today.
I will assist the lives of disabled people. I will be creating
buildings that will serve communities for decades to better integrate
physically and mentally disabled people into a quickly progressing
society and to design more efficient, accessible, and ergonomic
buildings that will change and invent the future.