Name: Thomas Ponce
From: Winter Springs, Florida
Grade: 9th
School: Winter Springs HS
Votes: 3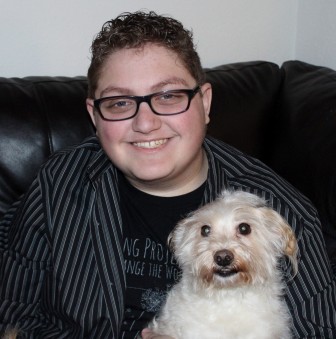 My name is Thomas Ponce, I am 15 and I have been involved in community
service and outreach since I was five. My current volunteer
activities involve working as a citizen lobbyist, speaker, and
advisor. I contribute 300-500+ hours yearly and have received the
President's Volunteer Service Award 3 times.
My commitment started from a desire to change the world. I saw a need to
raise awareness on various animal rights/environmental issues. My
efforts have grown over the years from attending
demonstrations/leafletting, to lobbying, speaking at events and
recently creating my own 501 (c)(3),Lobby For Animals (LFA).Through
LFA I teach about the importance of being proactive citizens. I've
created training videos, spoken at events/classes, worked on several
campaigns/legislation, participated in constituent calling and
corresponded with Senators/House Representatives. I have created a
bi-weekly legislative report that I distribute, highlighting
legislation throughout the U.S. I also run a conservation group where
we to discuss efforts relating to marine ecosystems. I am an active
member of several groups for teens and mentor on living a
compassionate life. I am a Grant Advisor with The Pollination
Project, an organization that gives out daily grants for
socially/environmentally/ethically impactful projects.
As a 15 year old volunteer, there have been challenges, but the rewards
far outweigh them. The biggest challenge, I think, has been that
there are just not enough hours in the day. I have plans and ideas
moving forward, and juggling schoolwork and my volunteerism/work can
be challenging. I have found time management skills are key to being
successful. I believe in what I'm doing and feel it is what I am
meant to do. That belief is reinforced each time I see that "ah-ha"
moment in someone's eyes. When I see that light in their eyes, and
know I helped them, all the time and effort I put in is worth it.
Volunteering and helping others, for me, is one of the most rewarding
things a person can do.
My goal moving forward is to bring my message to as many schools/people
as possible. I believe it is important that people of all ages get
involved and become proactive participants in life. I hope to inspire
others to realize the power they have and to use it to bring about
positive change. As I travel down this road I am learning so much,
and hope to one day run for a seat in the Senate/House where I can
further help and positively contribute to the communities I am a part
of. I hope to one day look back on my life and see that what I set
out to do so many years ago, "change the world", has been
accomplished. I hope to see more people utilizing the tools I have
given them, to help create just and fair laws. It really is true in
my mind what Margaret Mead said "Never doubt that a small group of
thoughtful, committed people can change the world. Indeed, it is the
only thing that ever has."