Name: Kayla S. Walker
From: Capitol Heights, MD
Grade: 12th
School: Fairmont Heights High School
Votes: 0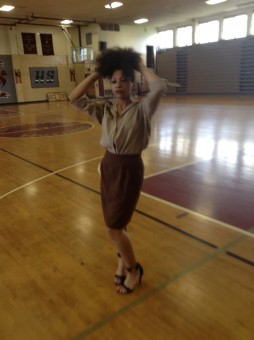 About two years ago, I was coming from Peppermill Rec Center. Suddenly, I
was stopped by a lady named Ms.Nikols, who thought I would have
interest in her youth group. Months later I had joined Peppermill
Youth Warm Hearts & Hands association in the year of 2014. In
this small group, I have did so much volunteer work such as food
drives, preparing sandwiches for the less fortunate, and having a
tutoring program for the youth nearby. In the community that I live
in sources are limited. At the rec center we don't have computers
nor mentors. In this program I try to support everyone and show
dedication. It is a challenge for me since I'm in after school
clubs. However, I have a vision for this community therefore, I do
not mind taking the time out to plan an event we can do every once a
month.
As a volunteer, I have faced many challenges. There were times where
events were canceled because we did not have enough people in our
group to participate, people in the community did not show up, or our
ideas were not strong enough. I felt that we were missing out on
having this community come together as one. My responsibilities were
to always stay in contact with my sponsor, attend the meetings, and
to always show up with fresh ideas. When I volunteer, it is really a
blessing to see the smiles on everyone's faces, I know that I've
done something right. In a community where there is a lot of violence
between teenagers it is a big responsibility for me to try to have
others change their perspective on them. I am especially proud when
I'm thanked for these accomplishments. The tutoring program started
off with only two kids who were shy but, by the end they were excited
to learn more.
Years in the future when I look back on times like this while I'm
studying my major in veterinary, I will remember going out of my way
to not only help but strengthen a community. I will remember keeping
the peace. I will remember putting together events where everyone can
enjoy and interact. As far as helping out the less fortunate, I will
be objective to them letting them know that they do have a purpose in
life all they need is motivation. Most importantly, I will remember
my sponsor and the people in my group who have pushed me to stay, two
of them having disabilities have always told me that I am a leader
and that what I am doing is not just for myself, it is not just for
community service hours, but it is for the people and to warm their
hearts as well. I want to be that person who visits their
neighborhood and see a change. I look forward to the youth taking my
position, and becoming a role-model for their community. Do not wait
for it to happen, make it happen.