Name: Summer Cruz
From: san bernardino, California
Grade: 2016-2017
School: Rialto high school
Votes: 0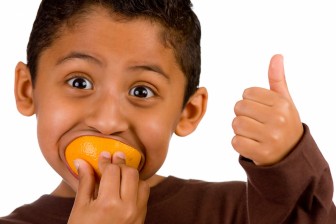 Summer Cruz
Youth forward
scholarship
26, July 2016
Ending hunger in the Community
There were nights and even days where I would go to sleep hungry because we
were short on food. That did not stop me from being mad at the world
because of the items or food I did not have. It just made me realize
that at age eight I need to make a difference for those who do not
have the supplies they need to go on their day because they are
either hungry or missing a piece of clothing.
When I first volunteered I was about fifteen and I volunteered at my church, This
was the first time the church was going to be doing something that
would impact the public and possibly help many people around the area
that needed food supplies and some clothing that our church donated
and the goodwill. I was excited and nervous this was going to be my
first time I participated in a food bank/ clothing bank I did not
know how to react when we would get the first person to help. From
the very first day in a hot saturday standing there packing and
unloading food and supplies for about four hours I knew I wanted to
do more of this and be more involved. Every month, every two
saturdays of the month where food bank days I anticipated for
saturday to come because it was always something new. A new story,
background, and a person's life we helped for a week of food supply.
My responsibility in the food banks I participated in was to make
sure everyone signed in to the book of help, make sure they received
a bag so they can put their items in, and put the items from my
designated area from where I was assigned in their bag. It was a lot
of moving and work for about four hours in the hot sun, but it was
worth it because there was many people coming and that meant stories
of wisdom, mistakes,regrets, and happy moments. What made me happy is
that no matter what each person that would come through those doors
for the food bank they had a smile and said their "please" and
"thank you's."
My biggest challenge when I volunteered at the food banks at my church was not
being able to help everyone in the food bank because so many people
would come and we would run out of food. My other big challenge was
many people were homeless and we give out big boxes of food and they
were heavy like twenty five pounds and many would go walking to their
destination there were so little volunteers to try to help everyone
who would come walking to get a box of food. My satisfaction was that
many people showed up to the food bank days to get food it made
people who have 'everything' on a daily basis wonder; how many go
hungry at night or even days because they do not have certain needs
to fulfill a good nutrition day by day. I have learned many new
things about myself by volunteering in food banks. Which is I hope to
one day open a food bank myself and have five locations across my
area and later expand,Ii have also learned better communication
skills i used to be very shy, but now I have a voice for those who do
not and made me become more open,
When I hear "forward looking" I think about there is no looking back after
all the ups and downs you need to continue looking forward there is
no turning back because then you are regretting something and by
looking foward you are giving yourself new opportunities and looking
out of the box. That is what I think when I hear "forward looking."
the hopes of one day be able to feed the homeless on the holidays and the weekends and
travel the world to feed the hungry. They are big shoes to fill in
and big dreams that I have, but I do know that I will achieve this
goal I know it will take time, but I will get there.
The change that I seek in my volunteering at the food bank at church is that
more people get involved in ending hunger in the community within
people's area that there be more food banks daily that help a variety
of people and there be enough for everyone not just a limited supply
of food, the whole world wastes food and lots of it on a daily bases
it can be put into good use for those who do not receive food. Yes, I
do believe that the volunteer activities that I present to the
community will make a difference along the line in say ten to twenty
or thirty years. Why am I positive of it making a difference because
if people see more people coming together and see one another
situation of those who are in need then there will be more of an
outcome of surplus help that any community needs.
With that, hunger in the community is an everyday issue that happens on a daily
basis to anyone and it might never go away, but with the food banks
that I have participated and many more that other people that
participate, it does lessens the hunger for some who can't get their
daily nutrition, but there will be a day that in every community we
will beat the ending hunger crisis.