Name: Aiden Sherman
From: St Petersburg, Florida
Grade: 11
School: Osceola Fundamental High School
Votes: 0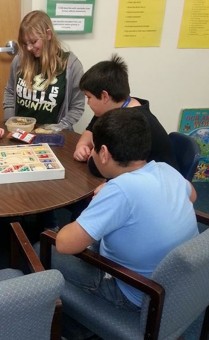 I began volunteering as a way to complete my required hours for the
Bright Futures Scholarship. I worked at a Title 1 elementary school
and became invested in the students I worked with. I came every
Friday for up to 10 hours and any other day I could make time to be
with the kids. Most of my time was spent with a student named Keith
(name changed). I completed my required 100 hours quickly, but I
ended up volunteering nearly 300 hours at the school. It was my job
to take students in small groups, but most of my time was spent
working with Keith. Some days he would sit there and make loud
noises, disrupting the whole class. If I was there, we would step
out of the classroom together and go on a walk until he could calm
down. We talked about what interested him at the time, be it the
Periodic Table or the Roanoke Disaster. The important thing is that
he had someone who was willing to listen and that he could be
productive when we returned.
In the beginning Keith physically couldn't work, and I felt frustrated
for him. Yet seeing him grow over the course of the year, along with
the other students I worked with, made all of the vexation and hard
work worth it. I learned a lot from the teacher that mentored me
about what it takes to work with children, but I learned even more
from the children I worked with. When I struggled with school and
mental health, I was lucky enough to have a family that could help
me. Keith and some other students didn't. Keith had to work so
hard just to get work down on paper despite his high intelligence.
Along with the trivia he would tell me every day I learned from
experience how to help children with mental disorders.

I plan on being a psychologist and I didn't expect to gain experience
in my field at the school I worked. Keith spent a significant
portion of a semester suffering from hallucinations and wasn't the
only student with diagnosed issues. To me "Forward Looking"
activities are those that will have a positive effect in the future.
The work I did with those kids won't have an immediate impact on
the world, but I like to think that I made their year a little better
and did so in a way that will help them be more productive members of
society later. Even if just one of them goes a little bit farther in
their life because I was a small part of it, I will have made a
difference. I hope that through the relationship I had with some of
the students, they learned the value of education and themselves. On
the last day of school I looked at the teacher I worked with and
asked if any of the kids will remember us when they're 30 and she
replied, "Keith will."