Name: McKenna Maglio
From: Pomona , California
Grade: 11
School: International Polytechnic High School
Votes: 64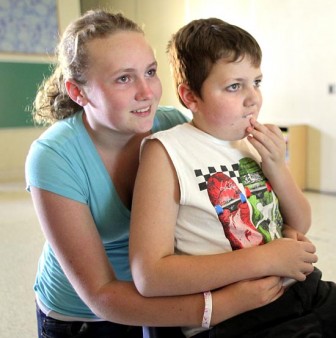 Every
Child Deserves a Successful Future
By:
McKenna Maglio
I volunteer at Ability First center in Claremont, California. I began
my work there when I was ten years old. Since then I have spent any
time I had working with physically and mentally disabled children. I
began volunteering in this field because of my familiarity with
mentally disabled children and my passion to help them. My younger
brother is severely autistic. He is my inspiration to strive to
better the lives of disabled children.
In the last eight years I have spent over 500 hours volunteering in the
field. As a volunteer I interact with kids who do not have the
knowledge of appropriate social skills. I teach them how to converse,
how to properly ask for things they want, and how to feel comfortable
playing and talking with adults and other children. I get to see kids
grow and discover their own strengths and talents. It is truly a
blessing to be in this environment because as much as I have taught
them, they have taught me so much more. Everyday is different, and
that present a lot of challenge and opportunity. The other
volunteers and staff all bring different skills to the job. Some are
well educated in the field and have tremendous knowledge. Others get
their wisdom and passion from personal experience, like me. The
biggest challenge has been to realize that both types of people are
needed for a child to have a successful learning environment.
It is not only the participants that are learning, the staff and
volunteers as well. We learn new things everyday, and the most
valuable thing I have learned is the ability to be patient and
understanding. Being patient is necessary in this field and comes
naturally to most people who choose it as a career. But being
understanding is something that only comes with time and experience.
Not only being able to understand what a child needs to be
successful, also being able to understand that every child is vastly
different from the next.
Forward looking in relation to my volunteer work is the progress that can be
observed in the lasting effects of the skills that participants learn
at at ability first. As a volunteer, the "forward looking" that
effects me are the new situations I face each day. These experiences
help shape my skills to better prepare me for further education and
future work in the field as I would like to become an Occupational
Therapist.
What makes it all worth while is knowing I am making a difference. Seeing
children's growth and progress each day, week month, and year.
There is no feeling in the world that compares to one of those
smiling faces looking up as you come through the door and hearing
them call your name excitedly to come play or come look at what they
made because they know you care about them and the future they have.
Word
count: 497