Name: Ryan Scaduto
From: pickerington, Ohio
Grade: 11
School: pickerington high school central
Votes: 0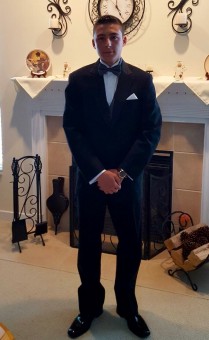 Ryan
Scaduto
Youth
Forward essay
July
7, 2016
Everyone
Needs Someone
Since I was five years old, I have been part of a volunteer guardian
program. My mom is a legal guardian for, at the time, a 65-year-old
woman in a rehabilitation center. She has been diagnosed with MRDD,
but is highly functioning. Her family lives too far away to visit
often and help with medical decisions, so that is where we help out.
We visit twice a month for two hours per visit. During these visits,
we catch up on what she has been doing during the week and if she
needs anything. Usually, she is reading a book when we get there, so
we have to interrupt her. She loves to read. We help straighten up
her room and do some mild cleaning. During this time, I often play
cards with her to help with her dexterity.
I would say the biggest challenge as a volunteer in this program is
teaching her to use a laptop. A few years ago, her sister bought a
laptop for her birthday. Her sister was hoping this would allow them
to communicate often. I am good with technology, so my mom put me in
charge of setting the laptop up. I had to create her an email and
teach her how to use it. This took some time, but once we made it,
she began to talk to her sister. The smile on her face when she
received her first email from her sister was priceless. She broke out
in tears because it had been awhile since they had spoken. She was
so appreciative that I had taken my time to help her.
I have learned that everyone needs someone to talk to, and be a part of
their life. I realized that giving a small bit of time can make a
huge impact on someone. I also think I learned a lot from helping
her. She would talk about when she was growing up. I learned some
history and new knowledge that can apply to my life today.

The volunteering I do will definitely help my future. I want to be a doctor so I will have to talk to patients and spend time listening to them. It also gives me
some experience in the medical field because we help with her medical
decisions. Through my volunteering I hope to inform people about the
volunteer guardian program and encourage them to help make a
difference in someone's life.