Name: Sam Newell
From: Chetek, WI
Grade: 11
School: Chetek-Weyerhaeuser High School
Votes: 7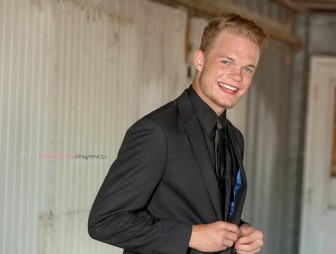 Sam Newell
Chetek-Weyerhaeuser
High School
Class of 2017
Everyone's
responsibility-volunteerism

Today's society functions on people's willingness to aid others.
It can help to unite the world. To me, volunteerism is a way to
connect with your community and to give of yourself.
I haven't limited myself to a single cause when it comes to
assisting others. My volunteering is a way of paying it forward. I
like to help little athletes in the hopes that they will in turn do
the same when they are older. As a football player and wrestler, I
have many opportunities to be a positive role model to younger kids.
In the fall, I spend my Saturday mornings at a football clinic that
runs younger kids through fun little drills. The kids like having
older players talk to them, laugh with them, and give fist bumps. On
the street, they will call my name and love when I can call them by
name. Many run back to their parents to tell them who I am and what
I have shown them. In wrestling, I referee and practice with the
club wrestlers. These kids are often sacred because this is their
first really competitive sport that they can be in. I find myself
encouraging kids, stopping tears, and celebrating their little
successes.
In addition to supporting the little athletes, I have done activities
through my church to assist the local homeless shelter in our county
and our local fire department. Our church group has prepared and
served meals. Also, we have made blankets for the fire department for
children who have either been in an accident or fire. It is a way to
offer comfort. Furthermore, our school district takes the idea of
community volunteerism to another level with our annual Give Back
Day. Elderly people and businesses can contact our school to
have kids paint, rake, pick up, build or anything else. Students
have created planters around the town, honored our troops through
murals on the local VFW and cleaned public parks. However, we often
don't wait for the call. The majority of ideas come from us. I have
painted benches and cleaned up at a park and cleaned little garden
spots at the local nursing home.
Even though most people aid those within their own families, it is
good to extend beyond our own families to those around us. Every
opportunity is a chance to help. I can't think of a month that goes
by when I am not volunteering on some project or another. It has
broadened me beyond thinking of just myself to trying to put on smile
on the faces of others. When help is needed, I don't hesitate to
jump in. I am a better person for it. For my future, I hope to go
into the medical field. It offers opportunities on a global scale. I
would love to travel and offer my free services to others through
programs like Doctors without Borders, Operation Smile, or numerous
others.