Name: Priyal Patel
From: San Jose, CA
Grade: 12th
School: Archbishop Mitty High School
Votes: 0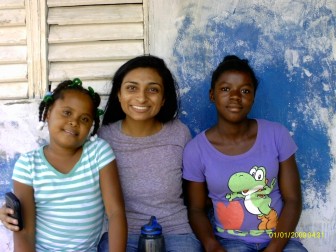 Tell
us about a personal quality, talent, accomplishment, contribution or
experience that is important to you. What about this quality or
accomplishment makes you proud, and how does it relate to the person
you are?
If I could rewind my life back to any point, I would pick the first time
I walked into the home of Gisela—my Dominican host mother. These
first steps would mark not only the beginning of an unforgettable
experience, but also the first time that I would discover the reality
of a world that I wrongly judged. I had convinced myself that the
people of La Cienaga were miserable and I would bring light into
their lives by organizing a community project. Boy, I was wrong.
La Cienaga was the complete opposite of the neighborhood that I grew up
in. Instead of being cooped up in their homes, the locals preferred
to sit outside chitchatting about the latest gossip. It was
impossible to feel lonely because each moment I was playing dominoes
with the kids or meeting new neighbors and learning about their life
stories. With a hunger to continue building relationships with the
Dominicans, I hardly slept because that would be a waste of time. I
am thankful that I experienced the art of conversation because
it inspired me to go back home and introduce myself to my neighbors
who had been strangers for seventeen years. Just like in the
Dominican Republic, I could not wait to be known as Priyal, the
social butterfly.
Although I met several people, I rarely saw any jovenes,
or teenagers, during the day and assumed that they were busy in
college. When I asked how far the college was a community member
laughed and then answered, "Oh, they wish they were in college."
She told me that no one is able to study past high school because
they need to start working to help provide for their families.
Hearing these words hit me hard because I had struggled with my own
academic motivation. I failed to value the educational resources that
I had because I never experienced life without them. After
this conversation, I resolved to ensure that the opportunity of
getting an education would never go in vain.
One of my greatest priorities now is to never take the things I'm
offered for granted, but rather to cherish the importance of them.
I was in a grave state of culture shock when I returned to the Bay Area
because I was not ready to go back to my life of isolation where
everyone kept to themselves. Although I had missed my friends and
family, I wished for nothing more than to hear my Gisela's laughter
as I struggled to hand-wash my clothes. The Dominicans may not have
been financially rich, but they were wealthy in the aspects that
matter, like the support of a community and happiness.