Name: Moriah Cunningham
From: Philadelphia, PA
Grade: Senior
School: Central High School
Votes: 0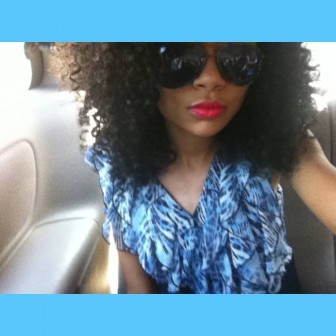 This spring, I volunteered for S.A.M.S (Sports and Mentoring Student)
Community, a program "Established
to enhance the social, emotional, and physical and personal
development of youth and establish a sense of community stewardship
through service learning".
Originally, I took on this community service simply to fulfill ten
hours for my Senior Project (which was geared towards helping the
youth of color stay out of trouble). Through those ten hours, I fell
in love with the program and wanted to keep volunteering. I ended up
working approximately fifty hours for S.A.M.S Community over the
course of four months.
As a volunteer, I was responsible for capturing the moments of everyone
through pictures, videos, and my writing. I took plenty of pictures
and videos on my phone. Then, I would go home and write a press
release about the events to send out to different church and
community based organizations to inform them of what was happening at
S.A.M.S Community. As a volunteer, my biggest challenge was probably
finding time in my schedule for S.A.M.S. They were held on Wednesday
nights, which were the same nights I had dance practice with a group
at my school A.A.S.U (African American Student Union). However, I
made the effort to get my homework done during school and/or in
between the time at A.A.S.U. and S.AM.S. As a volunteer, I truly got
satisfaction and a smile was immediately on my face when I saw my own
friends come out to S.AM.S Community to stay off the streets. I also
made new friends with Samantha Grannum (the assistant director) and
Sha'Laina Sample (another volunteer).

In being a volunteer in this environment, I learned how important the
little things are. In taking Creative Writing this year, I learned
the importance of staying quiet and listening. In simply listening to
people, I was able to capture conversations that took place and put
them into words. I was able to see how people interacted with one
another and how S.A.M.S Community was able to connect youth with
mentors concerning sports and/or career opportunities. Helping out at
S.A.M.S Community was community service, but it was also a benefit to
my own life. Through doing community service for them, I expanded my
horizon with writing. Through writing press releases, I learned how
to write to capture the emotions of the Community. In the future, I
want to be a technical writer and/or researcher. This will involve a
lot of writing, which S.A.M.S Community helped me to get used to.
After I have a career in the science field, I plan to come to S.A.M.S
not only as a writer but as a mentor for the kids to inspire them to
pursue their dreams, especially those interested in pursuing a career
in science and/or writing. Twenty or thirty years from now, the kids
that were involved in S.A.M.S Community will always remember their
experiences and evolvement with S.A.M.S because of the pictures,
videos, and words I created to capture those moments.