Name: Alyssa Dunbaugh
From: Colorado Springs, Colorado
Grade: 12
School: Saint Mary's High School
Votes: 0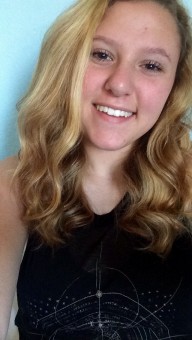 Feeding
the Hungry
I have volunteered in many areas of my community, but serving at the
Marian House has definitely been the most transforming for me. The
Marian House is a place where the homeless and hungry can go for a
hot and nutritious meal. I am Catholic, and I am called to perform
the Corporal Works of Mercy, one of which is feeding the hungry. I
have volunteered at the Marian House about once a month for the past
two years. There is a morning and afternoon shift for volunteers: the
morning shift is food preparation and the afternoon shift is serving
the food. I usually work both shifts. The biggest challenge I faced
the first time I volunteered at the Marian House was not placing
judgement on the people who came in to get food. Most of the people
who came in were dirty and wore old, raggedy clothing. It is easy for
humans to judge a person based on their appearance, but that is not
what we are called to do. We are called to love others and treat them
with respect; to value their dignity as a human. I quickly learned
that it does not matter how someone appears at first glance. Some of
the people that came in to receive food were the most kind and
compassionate people I have ever met. The greatest satisfaction that
I received from volunteering at the Marian House was whenever someone
said "Thank you" and smiled at me, because I knew that I had made
at least a small difference in their life, solely by giving them
something to eat. I learned how easy it is to make someone's day
brighter, even just by smiling at someone and offering a kind word or
two.

I would like to be a social worker someday. To me, that means using my
talents and God-given compassion to help others have a better life. I
would also like to continue working with the Marian House because it
truly has been a life-changing experience. I see my volunteer work as
"forward looking" because it is something I want to do as long as
I can. I also want to be able to use the compassion and nonjudgmental
attitude it has taught me in other areas of my life. To me, "forward
looking" means something that is proactive and will help you
advance in all areas of your life. I hope to spread compassion and
kindness in the world via my volunteer work. I hope that by serving
others, I can show those people how to serve even more people. I do
think that my volunteer activities could make a difference. By me
giving up my time to help and serve others, I think that other people
can learn from that example and do the same to more people, and those
people can pass it on too. Serving at the Marian House has been the
most enriching experience of my life.