Name: Timothy Henry Gauker
From: New Caney, Texas
Grade: High School Senior
School: New Caney High School
Votes: 0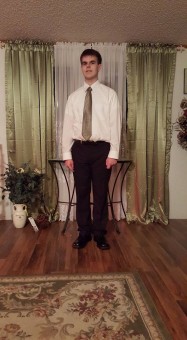 It is always nice to be a volunteer when organizations need it the most,
some organizations (or even your neighbors) are not always able to
finish the job on their own and a little bit of help never hurt
nobody. Recently, I have been doing volunteer work with my church's
youth group, most of the time we were washing cars but one time we
cleaned a neighbor's yard, the church does so to make enough money
for their big trip that happened this month… But this is not what I
am here to talk about. No, instead, let me talk to you about the
first time I have ever volunteered for anything, feeding the homeless
people in Hawaii!
I do not remember exactly what happened, but I do know it happened in
the 6th grade and the teacher passed out a few slips of paper
advertising volunteer work at the local homeless shelter, it was not
really mandatory, but after a few people persuading me to do what is
best for the community (and maybe some extra credit), I decided it
was in my best interest to help feed the homeless people. Work was
simple and did not last so long, it was only one school day (The work
probably took around 4 hours) and all I had to do was to, if you
hadn't already guessed, feed the homeless. I had a team of 5 people
working with me so we were relegated to 1 work station at a time, but
the real challenge was making sure that all the homeless people were
stuffed and that we did not run out of food… luckily, we managed to
pull through and get our job done, because as you know, the power of
teamwork prevails! After we finished feeding everybody, we had a
personal tour through the homeless shelter, it was kind of nice, they
got beds, tv's and all the essentials, but I sure do wish they had
everything they wanted… I guess the big lesson here is that
homeless people really need our help and that every little bite
helps… or something, it's not really a lesson if it's common
sense, but I feel like it needs to be addressed in some way.
I haven't really done any volunteer work in recent years, but I will
always turn back to this moment because it shows that I at least
cared enough to help the less fortunate so it at least makes me feel
good inside. I wouldn't necessarily say it's making a difference,
there's still a lot of homeless people out there and this problem
won't go away, but I at least played a part in the big ol' war on
Homelessness, doesn't that at least provide a glimmer of hope that
you can do the same someday? It's nothing special, but it would
sure make some people happy if you tried it out for yourself, you
would at least make someone's day providing food for them.