Name: Cassandra Tso
From: Phoenix, Arizona
Grade: I was a sophomore in college during Fall of 2015 - Spring of 2016 but this fall (Fall of 2016), I will be a Junior.
School: Paradise Valley Community College // Grand Canyon University (in Fall)
Votes: 0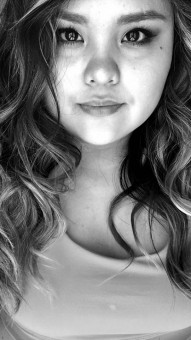 Volunteer: Find Your
Passion
I volunteer at my church as part of the worship team! I chose it because I, myself, was saved through music so it is an incredible honor to be a part of something
that I know can significantly impact another person's life and,
ultimately, bring them closer to Christ.
I have been on the worship team for roughly 6 years now and can serve anywhere from 1 day to 4 days a week, about 6 hours per. I am responsible for arriving on
time, monitoring when I need to prepare the stage or lead, fellowship
and spiritual guidance, and help with set ups when necessary.
The biggest challenge for me is mustering enough strength to get out of bed early Sunday mornings! The greatest satisfaction is helping lead the congregation into a
state of worship. There are times when you feel God's presence and
stepping away from the microphone, there is an incredible feeling of
humbleness hearing numerous, sometimes hundreds, of voices and hands
in the air. It is awe inspiring and encouraging to witness, knowing
you took part in ushering them to that place of worship.
I have learned to love without condition or pride to all types of people. I have learned to be patient and humble, quick to understand and love and slow to anger
and frustration. I learned there are all types of hurting people and
they need someone who can encourage or uplift them spiritually.
Helping others in turn helped me become a better person and a better
Christian, in my opinion! In a world full of hate and evil, I love
being a part of a team that advocates forgiveness, acceptance and
love.
I would define "forward looking" as a future forecast: Is what is happening NOW going to stand the test of time? Without music, I'm not sure how God would
have spoken to my heart. He spoke to me through it and moved me
through the worship team. It has created a huge impact on my life
and my lifestyle so I know it is important and able to alter many
others. I personally don't need fame or glory. My name does not
need to be known as long as people can come away knowing or feeling
God. God can use me to bring Him fame. Even one life makes a
difference so I know what we do is being paid forward! I'm hoping
one day, everyone can come to know the Lord. I know it is rather an
ambitious dream but so many people have a misconception on what
Christianity looks like. In light of recent event, Christians have
been persecuted because of beliefs that are counterculture. However,
many miss the true mission of Christians: to love. Being example of
love and forgiveness is what Christ has called us to do so others may
see that and draw near. However, radical Christians have tainted the
picture of Christ so my hope's to correct this.