Name: alicia furqan
From: chicago, il
Grade: junior
School: kenwood academy
Votes: 0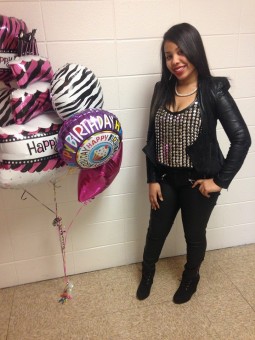 Growing up in a family oriented community in highschool, as much as we cared
for each other we cared for others. Since my freshman year to this
day, I have been apart of the F.O.C.U.S organization which stands for
Fundamentally, Organizing, Cultivating, and Urban Society. We stand
by seven pillars, honesty, loyalty, integrity, responsibility,
righteousness, compassion, and respect. As a senior now, my position
is a project manager and my main focus is centered around
volunteerism. We choose all areas to volunteer in knowing all kinds
of groups are in need of our support.

My group has weekly meetings to discuss upcoming project which we are
always doing on the weekends. I personally have up to sixty seven
hours. However the group serves to do about four hours a week. Some
of our responsibilities are to raise money, support charity events,
or participate in urban events as a group. The money we raise goes
back into our school to improve the facility, or is donated to a
charity of our choice. We have raised money by hosting car washes,
hosting an annual dance and, or selling products. Some of the charity
things we do are helping out at senior citizens homes, packing up
food for the homeless during the holidays and participating in walks
that support those that are sick.


Adding on, volunteerism is an important factor that defines me as a
person. My biggest challenge as a volunteer has been overcoming the
stress that builds up from trying to make sure everything runs
smoothly. However, what keeps me motivated and satisfied with my
volunteer work is seeing people happy. My dedication to helping
others has strongly become a routine. This has influenced the
development of my integrity which my organization defines as "doing
what's correct when no one is looking."

Looking towards the future I see the activities I participate in as forward
looking meaning the outcomes of the work put in is something one
hopes awaits to see. For example, when I participate in the food
drives, and packing up food for the homeless, forward looking would
be helping to end food hunger as I continually keep the work going.
All the work each volunteer puts in makes a difference. The more
people you help, the less people it is out in the world struggling.
The change I seek to change via volunteer work is to have more
younger adults to get involved, finding ways to make it enjoyable and
understand the value behind volunteering. If I was to come back ten,
twenty, or thirty years I think would see my volunteer work had made
a difference by seeing people I have helped back on their feet, or
the sick ones I had donated money to, to be much healthier.