Name: Alexis O'Hara
From: Ladera Ranch, CA
Grade: 12
School: Franklin University Switzerland
Votes: 0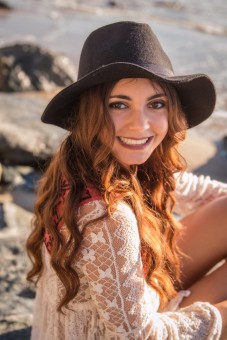 Youth
Forward Scholarship
Seventh through twelfth grade and over 300 hours of community service. That's
a large commitment for a twelve-year-old girl who hasn't
figured her life out yet. At first, my big-hearted mom pushed me to
National Charity League. New people, new experiences, and new ways to
give back to the community had me hesitant. I constantly thought, Who
has time for that? It was my mom's decision to join this welcoming group of mother/daughter teams, but I eventually became the one who signed us up for philanthropies. NCL is a well-organized foundation of empowered women, who constantly strive to make large differences through small tasks. NCL
has given me the opportunity to meet a group of like-minded girls who
I probably wouldn't have met without the NCL network. They encouraged
me to channel my passions, give back to the world, and work together
for the greater good of the community.
I have served a variety of charities through this program: the homeless
by providing their meals, teaching children with disabilities how to
run relay races in Special Olympics, running baby showers for
military wives, encouraging participants in the Susan G. Komen Race
for the Cure, fundraising over $100,000 to end domestic abuse. A
favorite was entertaining orphaned children from ages 1-4. It's
touching to hear their individual stories and recognize that they're
now in a better place and will be the authors of their own lives with
the kind help of foster families and volunteers. Although this
program is less specific on a certain charity, NCL has created the
opportunity to dabble in some phenomenal philanthropies and has
greatly humbled me after each task. One of the biggest challenges in
charitable acts is delegation. For the most part, volunteers comply
to tasks because they're there for one reason: to get the job done. However, that's
not always the case. Sometimes there's
a few people who are picky with their jobs, which usually affects
another volunteer- sometimes myself- leaving them to switch tasks or
even taking on another job. Moments like this made me realize that
sometimes you have to rise above and work a little harder to reach a
common goal because there is really nothing better than that feeling
that I did something to help the bigger picture and made someone
else's life a little easier that day. NCL taught me a lot about life- giving
me the power to change who I am and how I contribute to the world
really CAN make a difference and I will carry this level of optimism
for change throughout my life, in hopes to start a nonprofit for
either sex trafficking or domestic violence. Forward
looking is a powerful word. It's
creating a non-stop movement that will benefit myself and others in the future. It's
acknowledging that I aspire to be something greater than the common
individual and will work from young age and gain experience that
could mold a brighter, more purposeful life.