Name: Joseph Salazar
From: Sunnyvale, California
Grade: salazar_joseph92@yahoo.com
School: salazar_joseph92@yahoo.com
Votes: 0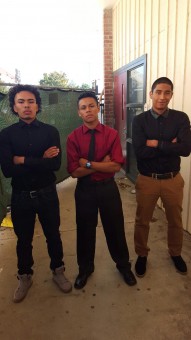 Joseph
Salazar
8/30/31
Youth
Forward
The area I have chosen to volunteer for involves underprivileged and at
risk youth from first grade all the way up to eight grade. Throughout
the whole camp, other coaches as well as myself conducted many
different soccer games for the children. I chose this camp because I
was once one of those campers at this KLD soccer camp. I attended
this camp for three years and every summer I loved it more and more.
Once I graduated from middle school I knew I no longer could attend
this camp as a camper but I could possibly become a coach. I
immediately signed up and a few weeks later I receive an email
regarding my coach application and they had informed me that I was
chosen to be a coach for the summer camp. I have coached at this camp
for three years straight during the summer. Every summer the coaches
volunteer 100 hours of their time to this camp.
During my time coaching these at risk children, one of my biggest challenges
as a volunteer coach was dealing properly with those kids who really
did not care at all and just wanted to sit around and not follow camp
rules. Getting through to the kids is not easy, but I had a lot of
patience with every one of the children. As a volunteer coach, I was
responsible for taking setting up the fields correctly alongside
other coach, taking attendance of all the campers, leading various
games, making sure everyone was participating, and most important of
all, making sure all the kids were being safe and respectful at all
times. The most satisfying outcome of this volunteer experience came
afterwards, when you would sometimes see some of your campers at the
store, at soccer games or anywhere else and they would come up to you
and give you a hug and a big smile. At that moment, I realized that I
had left a positive impact on them.
One major thing I have learned about this volunteer experience is that,
no matter where you come from or how tough you think you are,
everyone needs that little extra attention at times even though one
might say everything is fine, but in reality they are hurting inside
but feel the need to hide it. Focusing more on possible future
careers and my goals, this volunteer opportunity has helped me open
up my options regarding majors and careers in college. Working
alongside children was draining but the outcomes outweighed the
hardships by far. "Forward looking" to me means to already be
practicing on something that you could possibly major in. In other
words, you are preparing yourself for the future you hope to have. I
don't necessarily hope to change the world with my volunteer
activities, but I hope that the kids I've coached maybe one day
become a coach as well and give back to the community just like how I
did.