Name: Rebecca Simard
From: St. Petersburg, FL
Grade: 9th
School: Canterbury School Of Florida
Votes: 0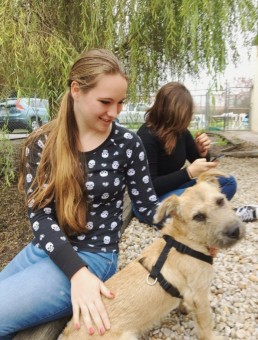 I have always loved animals from a young age. My family has owned
dogs, cats, and even horses for as long as I can remember, so I feel
a very strong bond with animals of all kinds. During my elementary
years, I helped my family foster rescue dogs, and I loved knowing
that I was making a difference in their lives. When I heard that my
school was offering a volunteer opportunity for students to spend a
week working at Friends Of Strays Animal Shelter, a local no-kill
shelter, in January of 2016, I could not have been more excited.
During this week (twenty-eight hours in total), I, along with the
other volunteers, helped take care of the animals and clean and
organize the facility, as well as helped with social media and
filing. This week taught me about the value of community, teamwork,
and hard work. I, personally, do not plan on going into animal care
as a career, but the values I learned that week will help me
throughout life. Making sure the entire group was doing their
assigned job was difficult and so was getting along with people at
times during the long days of carrying food and cages, but despite it
all, everyone had a great time helping out a good cause. Because of
this hard work, the animals living at Friends Of Strays have better
lives, and that makes it worth the work for me.
Many animals are abused and abandoned every day, and helping them not
only helps the community, but also provides an individual feel a
sense of accomplishment and develop a connection with the animals.
Organizations such a Friends Of Strays help keep animals off the
streets and put them in good, safe homes; I am honored to have helped
such an honorable cause. If all members of the community donated to
and volunteered at these such organizations, we could eliminate stray
pets and animal abuse in the future; it is for this reason that I
will never stop helping shelters in any way that I can.