Name: Yarit Alcantara
From: BURBANK, Illinois
Grade: 12th Grade
School: Reavis High School
Votes: 0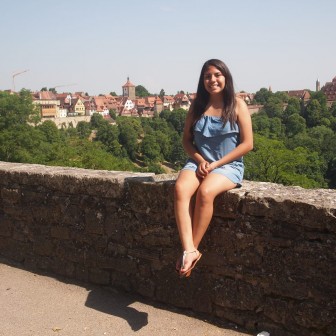 When I get asked why I volunteer my response is that I am looking at the field I might
be going into in a couple of years, and I get a fulfilment of joy
when I see the change I am making even if it is a small change . I
have chosen to do my volunteer work at two locations; La Grange
Memorial Hospital and Animal welfare. The prime reason why I chose to
volunteer at these two places was because I got exposed to different
environments they have to offer. With volunteering comes
responsibility on the plethora of tasks the coordinator puts me in.

I am in the PACU floor I assist the nurses/doctors on anything
general they need. I go get the telegram sheets, go to the blood
bank, pharmacy, and assist them with anything they need at the
moment. At the hospital I volunteer two hours a week and I have
accumulated from the last couple of months at least 50 hours. With
volunteering at a hospital I don't believe I have come across
challenges more of new learning experiences and how to deal with a
situations. One of the toughest experiences is when a doctor
diagnoses a patient with a disease and the patient is being told they
have to be put in urgent surgery before the disease for instance
cancer spreads more. What impacts me the most is knowing how in just
a day someone's life could change so drastically. I get to interact
with the patients a lot especially when they have no one to be there
to support them through an asperous time in their lives. Even though
I cannot help them medically I know I can at least motivate them, and
be there to listen to what they are feeling. One of the many
satisfaction I get from being a volunteer at the hospital is when the
nurses/doctors thank me or tell me I have helped them out a lot, or
put a smile on the patients when they aren't feeling fine.
One of the main reasons I picked to be volunteer at this specific
animal welfare was because not only are you able to adopt dogs, but
they also offer medical assistance towards the animals. I go to a
plethora adoption events off site or help walk the dogs. I get to
meet the potential dog/cat owners and have the opportunity of
interacting with them before they get adopted makes me feel jovial
that the animal is going to a healthy home. There are animals
constantly being brought in by their owners or being found as strays
in the streets is heart breaking seeing in the condition they come
into the shelter. The feeling of excitement I get when I see the
animal's condition changing and how the animal's character
changes towards people.
One of the many lessons I have learned throughout my volunteering
experiences is that people/animals are battling their own battle, and
they are the way they act because of what they have endured in the
past. It is not true when people say one person can't change the
world, but my doing small caring acts it can help out people one by
one then turn into something greater in the near future.