Name: Joshua Sickels
From: Chapel Hill, NC
Grade: Sophomore
School: Northwood High School
Votes: 0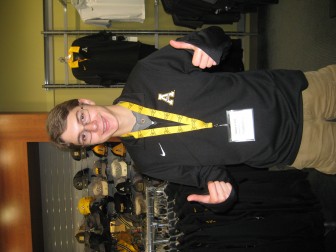 Getting
More Than I Give
I can't speak Hebrew. Not fluently anyway. After three years of Bar
Mitzvah study, I nervously stumbled over a few Torah passages in
front of the Rabbi, my family, friends, and the entire congregation.
I think I made up for it with my speech, though. It was about making
a difference, choosing the right way instead of the easy way, and
doing mitzvot (good deeds).
Giving back to society has always been an important part of who I am, and it started when I was seven. Every few months I collected toys and clothes I'd outgrown
for local charities. Then I began donating my video game systems to
less fortunate families around the holidays. I loved seeing Facebook
photos of kids excitedly opening their gifts.
Before I turned ten we relocated suddenly from Idaho to North Carolina. Here, the Chabad
gave me a sense of belonging when everything was new and unfamiliar.
I knew then that I wanted a greater role in the Jewish community, and
to share with the younger students the knowledge, happiness, and
significance I felt during my Hebrew school years. Since my Bar
Mitzvah I volunteer weekly at the Chabad, helping children with
prayers and Bar/t Mitzvah studies, and with special events and
holiday celebrations. Connecting with and growing our close community
offers a sense of pride that I'm part of something sacred and
larger than myself. I'd like to be even more immersed in Jewish
culture, but the Chabad is far and my father is devout Christian (and
loves bacon!) so it's sometimes difficult to respectfully balance
our religion with his.

Last summer I brought my enjoyment of helping kids to Minecraft summer camp. There I
encouraged teamwork, relationship-building, and problem-solving.
Though I don't see teaching as my career, as with Hebrew school,
this was a rewarding and fun experience to watch the kids grow and
learn.
In addition to classroom volunteering, I help cut coupons to purchase and deliver food and
supplies every month to Ronald McDonald House. My baby brother died
in the hospital when I was four, so RMH has special significance. We
send the expired coupons through the Troopons program for overseas
military families to try and repay their sacrifices keeping society
and our freedoms safe. I also help package weekend meals for fellow
students who can't afford them, and I sort donations at the local
thrift shop.
On average, I volunteer almost three hours weekly. Of course I want to minimize hatred, and foster understanding and acceptance for the Jewish community. Sadly, in
today's seemingly anti-semitic climate, I'm afraid this wish
in-and-of-itself may be seen as forward-looking. I'd also like to
think I'm making a life-changing difference for all my students,
the military, RMH families, and others. But volunteering changed my
perspective on the meaning of charity. I learn more from my volunteer
experiences than I could ever give back. In truth, I get back more
than I give.