Name: Linette Acosta
From: Beaumont, California
Grade: 11th
School: Beaumont Senior High
Votes: 0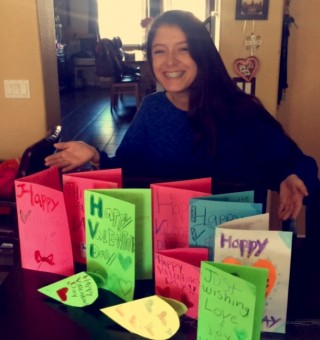 Being a Gift to the World
Never would I have imagined myself as someone "active in the community." My idea of
giving back to the world was to stay out of trouble and help
classmates with their homework – that to me was doing my "civilian
duty." When Junior year came around, I discovered what
humanitarianism was. At first, it was giant word with a blank meaning
that colleges required in order to be accepted, but once I joined my
city's Interact Club, my life has never been the same. From waking
up at 3 in the morning to go put up signs and gates for the city's
annual Spirit Run marathon to actually providing care to mentally
disabled adults. (Yeah I know, at only 16 I was trusted with
responsibilities nurses had…I wouldn't trust me either.) The
thing is, I never thought I would be in love with the whole idea of
it.
The club I joined in August of last year really helped out in all areas of the
community, but really it's the club I have to thank for inspiring
me. It inspired me to sign up for Loma Linda's Teen Summer program.
I was assigned accordingly to the criteria needed in that specific
area: the Adult Center at Loma Linda. At first, I thought it was
going to be like an old-folk home and I would just have to read to
them and such. But boy was I in for a surprise! Don't get me wrong,
either way it would have been enjoyable.
Upon arriving at the center, I was waiting for my supervisor in the main entrance and
as I was waiting a tall, African-American elderly man, walked in with
the biggest smile on his face. As he looked at me and I looked at
him, his smile didn't falter – it actually spread wider. He bid me
good-morning and I thought he would be great to have as a supervisor.
It was not until my actual supervisor came and introduced me to
(let's call him Bernie) him. I found out soon that he actually was
mentally disabled and that most people I'd work with have
Alzheimer's or Dementia or mental retardation. The idea scared me at
first because I knew it would take a lot of patience and an
open-mind, however, it was much easier for me in fact. They are have
this aura of innocence and typically were very welcoming.
For my first half of the summer 2016 i spent 3 days a week, 4 hours a day, going to
Loma Linda's Adult Center where I would help set up the room for
the guests and interact with them. I would do board games with them
or just sit down and talk to them because though they do not realize
what year they are in, they all have a story and they all have a
creative mind I liked getting to know. I grew close to a few of them
and it was really hard when the program ended to not be able to see
them again. It was not only self-rewarding to do that kind of
volunteer work, but also it filled me with beyond happiness because
helping these nurses gave back. It truly did. Sitting down and
talking to "Bernie" about his police job which he didn't
actually have, gave back.
Although I accidentally gave an elderly, half-paralyzed lactose intolerant woman
diarrhea from putting cream cheese on her bagel, overall it was
really exciting helping them and just being their friend. It has been
a couple of months and to this day I feel that they helped me more
than I helped them. I know I will be forever grateful for that
opportunity – it taught me to appreciate health and family. It showed
me the passion I had for helping the world and now it's evident
what being a gift to the world really is, I found a deep sense of
purpose in my life which I know will never cease.